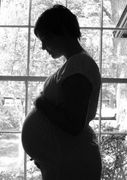 Pregnant women can experience all degrees of morning sickness. The lucky ones may suffer very little, while others find that no time during the day or night is off limits. Here are a few things that may help you get through this nauseating time:
Eat frequently. Eat small meals and eat them often. Even if it is only a handful of crackers, keep something in your stomach. I used to sleep with crackers on my nightstand because I would eat a few in the morning before I even got out of bed.
Eat what you crave. If you feel for peanut butter sandwiches morning, noon and night, then give your body what it is asking for. Of course, try to keep your eating as healthy as possible but you want to keep your food down. I was so sick during my third pregnancy that all I could eat for weeks was waffles and pancakes for meals. My doctor reminded me later in my pregnancy to keep the white flour and sugar to a minimum but during the first trimester he told me to eat what I could keep down.
These were the four things that got me through my first trimester:
1. Gingersnap cookies. I bought these every week from Sprouts. They were very thin, crispy and made me feel better when I ate them. I ate so many bags of these that to this day, I cannot look at another bag of Sprouts Gingersnaps. But, they served their purpose.
2. Peppermint Tea. As I would raise the oversized mug to my lips and sip on the hot liquid that warmed my body from the inside out, I thought "Ahh, this is almost like coffee." Yeah, almost except for the caffeine and that bold, rich taste that reminded you of a wonderfully peaceful café that you visited on a relaxing vacation. Anyway, I did really like the tea. The peppermint did wonders for settling my stomach. I used to drink this all day long and I had plenty of time to go back to my coffee after my baby was born (and finished breastfeeding.)
3. Saltine Crackers. I used to buy these in Costco quantities and they went with me everywhere I went. These crackers never let me down.
4. Water. I just craved icy cold water. I wanted it more than any other drink. This continued throughout my pregnancy and really helped be towards the end of the pregnancy when I felt so bloated. I started every single day with a large glass of water.
When I was going through it, it seemed like I would never wake up to another day without constantly feeling sick. Hang in there. Before you know it, you will be enjoying the next stage of your pregnancy. As always, check with your health care provider if you have any questions about your diet during pregnancy.