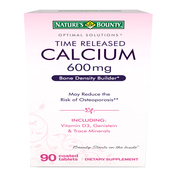 Calcium is a necessity to protect women's bones. During pregnancy, calcium intake is especially important. As a fetus's skeleton grows, it needs a lot of calcium. The baby gets its nutrients from its mother, particularly through the third trimester. If a mother does not get enough calcium from what she eats, she can develop health problems and have her bones at risk.
Many women can avoid bone issues during pregnancy. But this is not because they are getting the amount of calcium they need. While pregnant, the women's body has an increased ability to absorb calcium. This is especially true during the final 20 weeks of pregnancy, which is when the baby requires the most calcium to grow. Extra estrogen created during pregnancy helps protect a woman's bones. However, calcium has more health benefits than protecting bones.
Consuming a sufficient amount of calcium during pregnancy helps women avoid preeclampsia. If a woman gets preeclampsia, she develops high blood pressure and excess protein in the urine at a later time of the pregnancy. If left untreated, preeclampsia reduces the flow of blood to the fetus, resulting in a low birth weight and/or premature birth. The placenta can also detach from the uterine wall too early. The HELLP syndrome and eclampsia, which can cause permanent damage to the mother, are other complications. Giving birth to the baby is the only way to cure preeclampsia.
Preventing preeclampsia seems to be the best solution, and sufficient calcium intake can help that. Pregnant women older than 24 should take in the U.S. Recommended Daily Allowance of 1200 mg of calcium per day. Since pregnant women under age 24 are in the process of building their own and their baby's bone mass, they require an additional 300 mg/day of calcium.