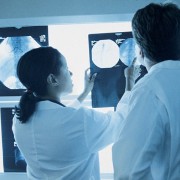 Photo: Getty Images
Millions of people live with a back ache every single day. From the occasional twinge due to too much exercise or activity to chronic pain that interferes with daily life, most of us will at some point deal with some type of back pain.
For those of us who have milder forms of back discomfort, oftentimes an over-the-counter pain medication along with resting the sore area will do the trick. But for people who endure on-going back pain, sometimes surgery is suggested. In many cases, these procedures can bring welcome relief.
One form of back surgery that is gaining in popularity due to its relatively low impact on the system is called laser endoscopic surgery. As surgeries go, this form is not terribly invasive at all. Most of the time, the physician only makes a 10 mm cut in the patient's skin. During the procedure, the surgeon places small tubes onto the problem area of the spine. The tubes act as tunnels during the surgery—for example the endoscope (a tool that helps provide channels for irrigation, light, and very small instruments like lasers and graspers), is routed this way to where it is needed. The tubes range in size from four to eight mm in diameter; the four mm tubes are generally used in the thoracic and cervical spine whereas the eight mm tubes are utilized in the lumbar spine.
Using an X-ray to guide him or her, the surgeon uses a variety of things including guidance wires, needles, and dilators to complete the surgery.
There are several types of laser endoscopic procedures: endoscopic discectomy (of either the lumbar or cervical areas), endoscopic foraminotomy (lumbar or cervical), and endoscopic lumbar facet rhizotomy.
An endoscopic lumbar discectomy is typically performed on patients suffering from issues like a lumbar disc tear, herniation, or bulge, to name a few. Symptoms typically include lower back or buttock pain that may or may not have accompanying leg pain for more than two to three months. During the surgery, the damaged area can be found with the use of a micro camera. A grasper will help to remove a herniated disc, whereas a laser will be used to treat a small bulge in a disc or annular tear.
A patient who might require an endoscopic cervical discectomy will typically complain of non-stop headaches, neck, upper back and shoulder pain, as well as other symptoms. Tests will usually reveal a bulge, tear, or herniation of the cervical disc.
The endoscopic lumbar foraminotomy is often prescribed for patients with issues including degeneration of the lumbar spine, spinal stenosis, spinal slippage or instability, or disc herniation. During the procedure any problem areas like bone spurs or protruding discs are removed.
An endoscopic cervical foraminotomy will usually be suggested for a patient suffering from on-going neck, shoulder, or arm pain as well as tingling and/or numbness in the upper extremities. This is often caused by bone spurs or a pinched nerve in the spine.
Finally, the endoscopic facet rhizotomy may be recommended for people suffering from things like chronic low back pain, whiplash syndrome, and/or a previously failed back surgery.
Back pain may be common, but it does not have to be inevitable, or something that people "just have to live with." Thanks to innovative and minimally invasive procedures like the ones described above, millions of people have been able to say farewell to their chronic pain and "welcome back" (no pun intended!) to a pain-free spine.