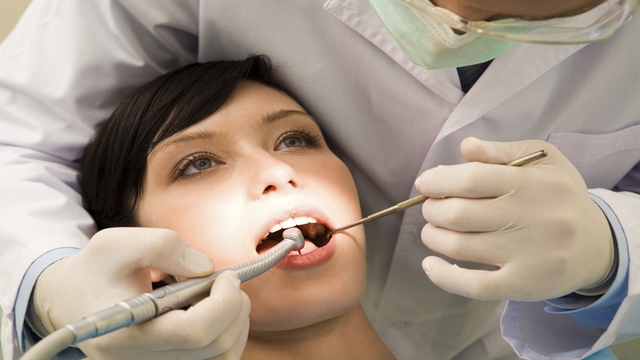 MonkeyBusiness Images/PhotoSpin
Psoriasis can affect more than your skin, according to a recent study. There may be a previously unseen link between psoriasis and gum disease.
Researchers from Taipei University observed over a time period of five years, that 54 percent of 230,000 people with gum disease who were studied had higher risk for psoriasis than participants who did not have gum disease. The study was published in the British Journal of Dermatology.
As if having gum disease isn't bad enough, does this mean people with gingivitis and periodontal disease now need to worry that they are going to also end up with psoriasis?
Fortunately, the answer to this anxious questions seems to be a definitive and reassuring no. Researchers emphasize that the study findings do not offer any solid indication that gum disease causes psoriasis.
So if you've learned that you're dealing with gum disease, this is not a red flag that you will also be hit with another malady. Don't assume that psoriasis is just around the next corner.
Solid information about what causes psoriasis is sketchier than anyone would like. For some time, the working theory concerning psoriasis has been that for reasons that are unclear, it is the result of the body's autoimmune response, attacking itself as it would enemy toxins.
Affected areas of skin become red, scaly and extremely painful as skin cells reproduce faster than they are shed, accumulating in plaques.
The notion of another condition having a correlation with psoriasis is not new. For instance, higher risk for coronary heart disease is linked with psoriasis.
Gum disease for its part is no stranger to being connected with other conditions, its presence can indicate higher risk for dementia, diabetes, heart disease, stroke, and premature births or low birth weight.
In the progression of gum disease, gingivitis usually comes first. Bacteria accumulates, creating inflammation in the gums. Gums become swollen, red and prone to bleeding.
If it is unchecked, the next phase is periodontitis or gum disease. Inner layers of gum and bone begin to pull back from teeth and pockets form which fill with debris and cause infection, challenging the immune system. If allowed to continue, bone and gum tissue erode, which eventually can leave you with loose teeth or teeth falling out.
Some factors increasing the risk for periodontal disease are hormonal changes, smoking, some medications, inadequate brushing of flossing, and family history of dental disease.
Further research will be necessary to learn more about any possible connection between psoriasis and gum disease.
Sources:
Gum Disease May be Linked to Psoriasis. DentistryToday.com. Retrieved Aug. 28, 2013.
http://www.dentistrytoday.com/todays-dental-news/8190-gum-disease-may-be...
Gum disease linked to psoriasis: study. ChicagoTribune.com. Retrieved Aug. 28, 2013.
http://articles.chicagotribune.com/2012-10-04/lifestyle/sns-rt-us-gum-di...
Gingivitis and periodontal disease (gum disease). WebMD.com. Retrieved Aug. 28, 2013.
http://www.webmd.boots.com/oral-health/guide/gingivitis-periodontal-disease
The Health Perils of Gum Disease. WebMD.com. Retrieved Aug. 28, 2013.
http://www.webmd.com/oral-health/features/health-perils-of-gum-disease
Visit Jody's website at http://www.ncubator.ca
Reviewed August 29, 2013
by Michele Blacksberg RN
.
Tags: