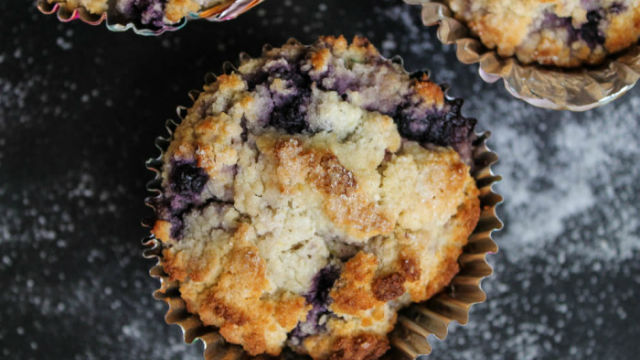 Via simplesweetandtreats.com
Breakfast is my favorite meal of the day, but during the week I find myself rushing to put something to eat together while getting ready for work.
If you find yourself in the same situation, why not make some time the night before making some breakfast dishes to enjoy throughout the week? That way you can make sure you're eating something healthy in the morning and actually making time for breakfast.
Here are 10 healthy and tasty breakfast recipes you can make ahead of time.
1. Original Overnight Oats
Oatmeal is a great healthy breakfast staple, and this 4-ingredient overnight oats recipe is so simple to make! Just combine oats, your favorite kind of milk, maple syrup and vanilla extract in a mason jar. Then seal and refrigerate overnight. Add on yummy toppings like fresh fruit or nuts. Get the recipe here.
2. Crustless Mini Quiches
You can make a bunch of these bite size quiches for a few days of the week. This recipe includes eggs, cheese, spinach, bell pepper, onion, broccoli and jalapeño, but feel free to customize with your favorite veggies. Get the recipe here.
3. Blueberry Baked Oatmeal
I told you oatmeal is a great breakfast staple. This baked oatmeal serves eight, so you can eat it throughout the week and share it with family. Combine oats, baking powder, and salt with honey, milk, egg, butter, vanilla and blueberries. Bake for about 30 minutes, then enjoy! Get the recipe here.
4. Carrot Cake Baked Oatmeal Bars
This is a great on-the-go breakfast option and it is packed with flavor and nutrients. Plus these oatmeal bars have a lot of fiber, so you'll feel fuller longer. Get the recipe here.
5. Mason Jar Fruit & Yogurt Parfaits
If you're tired of milk and cereal every morning, this is a great alternative. Combine greek yogurt, chia seeds, milk and oats, then place in mason jars or some kind of small container. On top of the yogurt mixture, layer your favorite kinds of fruit. Get the recipe here.
6. Tropical Coconut Chia Pudding Jars
Here's another grab and go breakfast made with delicious tropical fruits! This recipe calls for pineapple, oranges and bananas, but you can easily swap with your favorite fruits too. Get the recipe here.
7. Gluten Free Mixed Berry Muffins
Lots of muffins are packed with ingredients like sugar, butter and milk, but this recipe simplifies the classic blueberry muffin with healthier ingredients. Rather than regular flour, this recipe calls for coconut flour, which adds a fluffy texture. Get the recipe here.
8. Freezer Breakfast Sandwiches
Rather than stopping on your way to work for an Egg McMuffin, try making your own breakfast sandwiches instead. On top of an English muffin, layer cheese, eggs and deli ham. Wrap in plastic and freeze. When you're ready to reheat, microwave for 1 minute on 50 percent power, then flip the sandwich and microwave 1 minute on regular power. Get the recipe here.
9. Make-Ahead Breakfast Casserole
Here's another recipe that's great to share with family or roommates. This breakfast casserole is packed with protein and yummy veggies like mushrooms, spinach, onion and bell peppers. Get the recipe here.
10. Pumpkin Spice Overnight Oats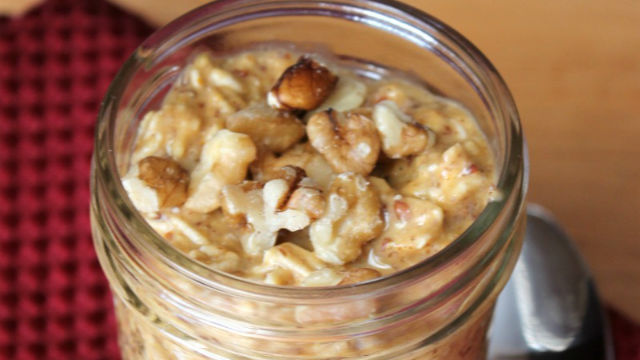 Via organizeyourselfskinny.com
Fall is quickly approaching, and these pumpkin spice overnight oats are a great festive recipe. Combine pumpkin puree, coconut milk, oats, vanilla, pumpkin pie spice, flaxseed and maple syrup, then place in mason jars. Refrigerate at least 8 hours, then add walnuts on top when you're ready to eat. Get the recipe here.