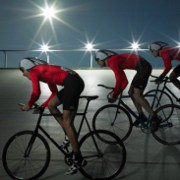 Photo: Getty Images
In 2004, Jennifer Schuble was diagnosed with multiple sclerosis at the age of 27. This can be a world-stopping diagnosis for anyone but for an avid athlete like Schuble, it could have seemed like the end of the world.
But even at the tender age of 27, Schuble was no stranger to catastrophe. She'd sustained a traumatic brain injury during hand to hand combat class at West Point some years earlier. A car accident later crushed her right arm and delivered a second traumatic brain injury.
The girl is hard to keep down, in part because of her competitive nature and a drive to do her best, to be the best. That, along with treatments to control her symptoms, has created a formula for rising above the circumstances.
Before this litany of physical assaults had hit her, Schuble had already scooped up a long list of athletic accomplishments and accolades starting in high school and continuing on until she got MS.
Schuble has relapsing-remitting MS (RRMS), the most common form of the disease. RRMS is hard to predict. It may hit someone hard, keeping them helpless and bedridden, or its symptoms may be relatively mild. Then again it may wax and wane, offering no way of knowing whether tomorrow will be a good day or a bad day. If symptoms lift, they may disappear forever or they may crash down before the day is through.
RRMS brings many lives to a halt, leaves others in limbo. Some carry on, with the right combination of treatments, drive and the ability to rest when necessary.
According to Schuble, "Rest plays a key role not only for someone dealing with a chronic condition but endurance athletes also require rest for recovery. I try to get eight hours of sleep every night but that does not always happen with my busy schedule working a full time job along with training for the Paralympic games."
Some with RRMS manage to thrive despite the illness. Schuble has been able to carry on with her life and her dreams, and those things she could no longer vie for she transformed into new dreams. "I manage my MS through my daily injections of Copaxone, working with my doctors, diet, keeping a positive attitude, and my extensive exercise."
In 2006, Schuble was a runner-up in a U.S. national sprint triathlon championship. And in 2007 she became a 1/2 Ironman finisher.
To others living with MS, Schuble offers up these words: "I want to stress not to put limitations on yourself or let others set limitations on you because you have been diagnosed with multiple sclerosis. Go out and pursue your passions and dreams. No matter how big or small they might be."
Schuble works for Mercedes-Benz USA, as an engineer. Despite working full-time, she also shares her personal story with other MS patients offering encouragement across the country.
Schuble volunteers for the Lakeshore Foundation, a nonprofit organization promoting independence for the physically disabled. She has also joined Team Copaxone® as one of 11 members with MS to raise awareness about MS.
She left running for track cycling and has won a gold and two silver medals in Beijing, China at the Paralympics. She's in training to represent the United States at London's 2012 Paralympic Games.
Even dealing with the challenge of living with MS, Schuble is grateful. "Because of my MS diagnosis, I have been given the opportunity to race my bicycle around the track but also around the world."
Wednesday, May 25, 2011 is World MS Day, dedicated to raising awareness about multiple sclerosis for the half a million Americans and the two million globally who suffer from this disease.
Resources:
Racing To Raise Awareness About Multiple Sclerosis
http://sandiegonewscape.com/index.php?option=com_content&view=article&id=1144:racing-to-raise-awareness-about-multiple-sclerosis&catid=13:health&Itemid=2
Jennifer Schuble: About Me
http://www.jenniferschuble.com/About_Me.html
About World MS Day
http://worldmsday.org/about-world-ms-day
Visit Jody's website and blog at http://www.ncubator.ca and http://ncubator.ca/blogger
Reviewed May 25, 2011
Edited by Alison Stanton