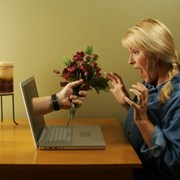 iStockphoto/Thinkstock
If you've been unsuccessful finding your soul mate through online dating sites, you may want to take a good look at your profile.
Is it long and involved? Vague and uninteresting?
If you're serious about meeting your ideal mate, you need to make your profile jump off the page.
Here's how:
1) Be honest and sincere.
The key to a perfect match is being honest about who you are. Writing the way you talk will reveal your personality and also that you're taking this dating thing seriously. You're looking for somebody with whom you have lots in common, so be sincere.
2) Be brief, but remarkable.
When Mr. Right reads information about you, he's looking for comparable interests, but he might be inclined to skim over an essay and miss really important stuff. Make it easy for him by using short and witty phrases when describing your likes and dislikes, such as "loves fast cars"' or "hates bugs".
3) Add a little humor.
Unless you're seeking a dull and boring mate, you need to display your fun-loving side by saying more than "I have a good sense of humor." When the question asks what you would bring to show and tell, isn't saying, "My sister's diary" more interesting than "my favorite book of poetry"?
4) Avoid being vague about interests.
Saying you enjoy reading and outdoor sports doesn't reveal much, but if you love Stephen King novels and kayaking, what it really means is, "I don't cringe at horror movies and my upper arms are fabulous."
Writing that you love music and animals is too ambiguous. Saying you rock out to Beatles tunes while walking your Golden Lab in the park paints a more exciting picture. Get the picture?
5) Build on multiple choice questions.
Online profiles often use multiple choice questions when it comes to romance. It's easier for the guys. If you're required to choose between loving a moonlit stroll along the beach or climbing Mt. Kilimanjaro in the winter, check one and add your own words if possible. For instance, "Riding Harleys to New Mexico is my idea of a perfect date." But only say that if you really like motorcycles.
6) Be clear about politics and religion.
If you're passionate about saving the environment and are a devout Catholic, you probably want to attract the same type. Don't skimp on views that are important to you when considering a long-term relationship. You're looking for your ideal match, not somebody you'll wish you could change later.
7) Minimize spelling errors.
If the online profile doesn't have a spell-check feature, write in a word-processing document first or ask a friend to help you. This can reduce embarrassing mistakes. Also check spelling of words like "they're", "there", and "their". You want your profile to be as perfect as a job resume.
8) Include several photos.
Adding up-to-date photos sends a more engaging message than snap shots from your iPhone with friends cropped out or worse, one from 10 years ago when you were 50 pounds thinner. Action pics such as you water-skiing or hugging your pet boa constrictor are fine, but attach at least one full-length photo and one close-up.
Write a fun loving, eye-catching online profile and you'll be dating your ideal match in no time.
Sources:
No Fail Online Dating Tips. More.com. Retrieved 04, June, 2012
http://www.more.com/best-online-dating-tips
Online Dating, Now With A Little Help From Your Friends. Huffingtonpost.com. Retreived 04, June, 2012
http://www.huffingtonpost.com/2012/05/23/online-dating-sites_n_1539201.html
10 Online Dating Etiquette Tips From The Emily Post Institute. Yourtango.com. Retreived 04, June, 2012
http://www.yourtango.com/2012152595/12-online-dating-etiquette-tips-emily-post-institute
Reviewed June 4, 2012
by Michele Blacksberg RN
Edited by Jody Smith