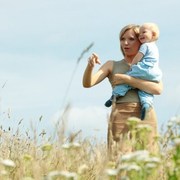 Zoonar/Thinkstock
When you carry a child, you are very aware of the person that grows inside of you. You welcome every kick, every hiccup, and every movement that reminds you that a miracle has been created.
In fact, these things become so familiar that you may miss them for a bit once the baby is living outside of you. I experienced sadness for days after delivering. I missed the kicks.
Despite the physical changes and the aches and pains that go along with them, it is reassuring to know that your body is the protective shell that will keep your child from harm.
I watched his tiny body as he slept and couldn't help but worry about how vulnerable he looked in the clear hospital crib. You hear people say that they would do anything for their children but you don't really know how that feels until you become a parent.
As a mother of three, it seems that my boys are growing right before my eyes. I try to never turn down the request from one of my sons to lay with him at bedtime and rub his back while he falls asleep.
I make an effort to put work aside when I am asked to play a game or read a book. I know that this time is limited and someday they will not feel that they need me at all.
There are things that I miss already. Like the look that you get from your baby when he notices that you have walked into the room and his eyes light up, his smile grows big and he begins to move his arms and legs like he is trying to run to you.
I miss the days of preschool when my son would answer, "My Mom," when asked who his best friend is. I miss how my son used to hold my hand, even when we weren't crossing the street.
As another school year comes to an end, I am filled with pride by the accomplishments that my children have achieved.
I love to watch them grow and see them learn. And I still love to spend a few minutes every night watching their peaceful faces deep in sleep. It reminds me of the babies that they once were and the incredible gift that I was blessed with.
I had no idea just how wonderful it would feel to be a parent.
Edited by Jody Smith