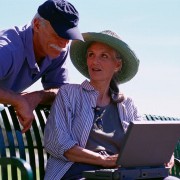 Photo: Getty Images
Ira Krasnow may have only interviewed 200 women in writing her newest book due out early October, but she suspects -- as do I -- that the feelings of those 200 women reflect those felt by so many more.
Krasnow is a bestselling author and an assistant professor in the School of Communication at American University. Her writing has been featured in many national publications, including Parade, The Wall Street Journal, The Washington Postand AARP The Magazine.
The Secret Lives of Wives -- Krasnow's most recent book -- continues her journey as a journalist who chronicles the adult female growth cycle.
For the new book, Krasnow spent two years interviewing countless women on their unions of anywhere from 15 to 70 years. Krasnow, herself, has been married 23 years and during that time raised four boys.
"From my own experiences, and from the dozens of sagas unloaded into my tape recorder, I am constantly reminded of the eggshell-thin line that separates loving from loathing. I know that staying married can mean plates flying across kitchens, tears soaking pillows and emailing old boyfriends at 3 a.m.," Krasnow said in an article she penned for the Huffington Post.
In conducting her interviews, Krasnow assures that she'd heard it all. From adultery, to threesomes, to a husband finally coming out of the closet, Krasnow's skin has thickened. Of all the shocking tales she heard, there's one thing she says surprised her.
"My biggest shock is how many outwardly cheerful women who have been married forever think about divorce if not weekly, at least once a month," Krasnow said.
While maybe not the most scientific research method, Krasnow says of the 200 women she interviewed, she can count on one hand how many said they never considered splitting up. And it wasn't just women in bad marriages that said they thought of getting out. Numerous women who had a very comfortable, very pleasing marriage still thought about getting out.
"Many of these settled midlife women admitted they were slightly jealous of Tipper Gore who gets to have a fresh start after 40 years of matrimony with the same guy," Krasnow recalls.
So then what differentiates the women who stay in marriages and the ones who commit to the split?
"I have found in my collection of wives who remain in long running marriages that the majority of them share these common traits: They have the guts and determination to stick it out, no matter what. And their laments about their marriages aren't because of anything serious. It's the subtle nuances of living with one person in one house for a very long time that grates at the soul, that causes a simmering malaise. It's the grind of the ordinary that drives people into thinking, 'Is this all there is? I want more. I want adventure. I want change,'" Krasnow said.
Krasnow found that "the happiest wives have a sense of purpose and passion in work and causes outside of the home," and that all in all, women who stay married like being married better than being divorced or single. Even if that margin is only 51 percent to 49 percent.
Just a hunch ... but I think Iris Krasnow's book will be full of stories, feelings, emotions we've all felt or have gone through at some point. It's out in a few days and is certainly on my list of books to read.
Sources:
The Fine Line Between Marriage and Divorce. Huffington Post. Web. 27 Sept. 2011.
http://www.huffingtonpost.com/iris-krasnow/the-fine-line-between-mar_b_959372.html?ref=mostpopular
Ira Krasnow. Irakrasnow.com. Web. 27 Sept. 2011. http://iriskrasnow.com/index.html
Bailey Mosier is a freelance journalist living in Orlando, Florida. She received a Masters of Journalism from Arizona State University, played D-I golf, has been editor of a Scottsdale-based golf magazine and currently contributes to GolfChannel.com. She aims to live an active, healthy lifestyle full of sunshine and smiles.
Reviewed September 28, 2011
by Michele Blacksberg RN
Edited by Jody Smith