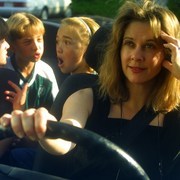 PhotoSpin
I am no SuperMom. It is 6 a.m. and I am just getting out of bed. On a Wednesday morning, this means that I am late.
After my husband gently rubs my arm twice, I toss the soft blankets to the other side of the bed and sigh loudly as I peel my body from the warmth of my bed.
I have not had a restful night's sleep. I went to bed late, nearly midnight after writing and getting things taken care of for school the next day.
My slumber was interrupted many times during the night as our new (and sick) puppy suffered from coughing fits. When he coughed, it woke me and I ran to him.
When he wasn't coughing, I still checked on him, fearful that he wasn't breathing. It is true, what they say, having a puppy is like having a baby.
I stumble out of my room, and shield my eyes from the bright hallway light. I flip off the light and descend down the stairs, counting the steps as I walk in the darkness.
"One, two, three ... Ouch! Who left Batman on the stairs!"
I am swearing under my breath by the time that I finally make it to the coffee pot.
I measure the perfect amount of beans, grind them, add the water and press the On switch.
I move a little faster now and run back up the stairs to wake the boys and pick out their clothes. It is picture re-take day and I don't want either one of them in their beloved "Rocker for Life" t-shirts.
It takes both boys about as long as me to get moving and finally we are all downstairs.
I start to make lunches for school and breakfast as I eye the coffee maker. It is almost done brewing.
I bake the long "take and bake" baguette bread from the grocery store because I know how much my boys like it.
I am baking bread? In the morning? Before school? Am I crazy?
It doesn't matter. It only takes 9-11 minutes so I should be fine.
The rest of the morning is a juggling act of doing about five things at the same time. I burn the toast. I give juice to the kid that asked for milk.
I forgot to check homework. I am handed a note from a backpack that describes an art project that I am supposed to work on with my seven-year-old. It is due today.
The clock is ticking down.
The hour and fifteen minutes goes by much quicker than I expected and we are in danger of running late. I loudly announce that everyone must get in the car NOW.
We all shuffle out the door. The four-year-old isn't even dressed yet. Oh rats.
That means that we have to come home after drop-off to get everything that he needs before preschool.
It is only an extra 45 minutes in the car. It will have to be fine.
I grab a travel mug of a second cup of coffee and my iPod. A relaxing playlist is exactly what I need.
Once in the car, the boys are all bugging each other.
Irritation is coming through loud and clear from the backseat as I hear, "He's copying me!", "Stop touching me!" and "I don't want you looking at me!"
I take a deep breath and try to ignore the sounds since I am trying not to crash into anything as I drive.
At the next red light, I turn on my iPod. Stress relief is mine.
Oh no. The battery is dead. Of course it is.
The plug cord is missing from the car. Of course it is.
The longer I drive, the less patience I have. I look out my window at fellow drivers and want to yell out, "Want to trade?"
The fighting, the slapping noises, the loud voices ringing in my ears, echoing from the back seat. I finally scream, "NO ONE IN THIS CAR IS ALLOWED TO TOUCH OR LOOK AT ANYONE ELSE!"
The voice inside my head says, "Do you hear yourself? You sound crazy."
The rest of the car ride is silent except for the occasional angry whispers from my four-year-old. "Mommy is MEAN."
The other two boys can hardly wait for the car to stop before jumping out to go to school. I have managed to make all three of my boys unhappy before 8 a.m.
On the drive back home, the four-year-old is still not talking to me which is fine since I am making a mental list of the things that have to be done in the short 20 minutes that we will have at home.
I walk in the door and hear the puppy whining. I realize immediately that I forgot to take him out before we left for school. I think he held it as long as he could.
Add clean up dog mess to my list. Now we will be late for preschool.
Ever feel like you are failing at everything?
Edited by Jody Smith