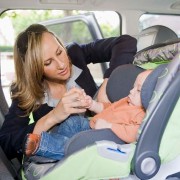 Photo: Getty Images
The continuous beep from the alarm clock attempts to wake my husband and me at 5:00 a.m. He sits up and gets going right away. I cover my head with the warm blankets hoping to steal a few more minutes of sleep.
I drift back into a light sleep until I am startled by him shaking me under the cozy covers. Slowly, I kick my feet to the ground, stretch and yawn.
My hand fumbles on the night stand searching for my glasses and I bend down to read the clock. It is 5:20 and I spring to life. I am running late.
The first piece of business is making lunches. I open the doors to the pantry to grab what I need.
Unfortunately, what I needed was behind a glass container holding noodles and it falls from the shelf. In slow motion, I reach for it, unsuccessful in grabbing it.
My eyes are wide and my mouth twists into a small "o." The sound of my voice screaming "noooo!" and glass shattering on tile echoes throughout my kitchen.
Now there are dry noodles and broken glass everywhere. I start to quietly curse under my breath but remind myself that a bottle of olive oil or balsamic vinegar would have been worse.
I grab the broom. As I sweep, I work the revised time line through my head. "Sweep up glass." "Make lunches." "Wake boys." Get it all done before 6:00 a.m. Do I have time to pour myself a cup of coffee?
Once the mess is cleaned, I am like a robot. I grab two lunch boxes and quickly assemble (what I hope to be) a healthy and very fun lunch.
Before I zip them closed, I scribble a note with a smiley face for each of my boys. "Have a great lunch! Love, Mom" Lunches and drinks, check.
I race up the stairs, taking two at a time. I give two boys the "get up warning" and run back to my room.
I have 10 minutes to shower. I shower at lightning speed and pull on the closest clothes that I can find that still look good for volunteering at school.
I sprint back over to the boys, turning on their lights, pulling back their covers and shaking my wet hair at them. "Get up and get dressed. Breakfast in 15 minutes!"
After running back to my room, I semi-dry my hair and gather it back into a low pony tail. I throw on some light make-up and stand back from the mirror for inspection.
Okay. Get the boys.
The older two boys shuffle out from the hallway slowly and I attempt to make them go faster by breaking into a song. It doesn't work.
Another check list. "One, two ... missing one kid."
I rush into our youngest son's room where I am met with a big smile and warm hug. I pick him up and carry the last of the crew down to the kitchen.
Waffles are the breakfast request so I whip up a quick batch, heat up the waffle iron, and check any last pages of homework.
Everyone eats waffles and fresh fruit as I put together some snacks for my husband and pour him a cup of coffee to go. He hugs and kisses each of us before rushing out the door, briefcase in one hand, coffee in the other.
The clock is ticking. Breakfast dishes are brought to the sink and everyone starts packing up their backpacks. I still need to get my three-year-old dressed and make sure everyone brushes their teeth.
After numerous reminders, all kids are ready to load into the car. I scan the check list in my mind.
Backpacks, purse, water, snack for preschool, kids. All check, check, check, check.
Still, I feel like I am forgetting something. Finally, my growling stomach reminds me that I haven't eaten. I quickly blend a protein smoothie to take in the car while the kids go to the garage.
And coffee to go. Please don't forget the coffee. And gum.
We are finally all in the car, buckled in safely and on our way to school. I have a drop off at 8:00, drop off at 9:00, back to the first school to volunteer at 9:30, then back to the second school for pick up at 11:30. All that before a 3:00 pick up at the first school.
As I stopped at yet another traffic light, I began to think, "I am not so much a stay-at-home mom as I am a stay-in-the-car mom."
Edited by Jody Smith