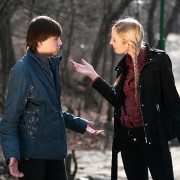 Photo: Getty Images
There are women who, no matter what a guy does, are not satisfied. They have a need to constantly hear something good about themselves from their men. And there are women who never say a word but wait all their lives for their guys to say something good about them. There are men who constantly put their women on a pedestal, whether they mean it or not. And then there are those who never say what they mean to or think of saying anything that may take their relationship to the next level. Communication between couples deteriorates over the years if an effort is not made by both parties.
In the beginning, communication between two people usually includes each other's taste for food, clothes, movies, restaurants, and places to visit. The next step is to share information about each other's friends, family members, work place, etc. By this time a couple usually gets to a make or break point. It is the time to get to know each other on a personal and intimate level. Then, if everything works out, comes the marriage part. The excitement of newly wedded life continues with setting up house, getting to know each other's likes and dislikes in the house, etc.
For some people this newlywed phase continues for a long time, even life long. For some people it lasts for couple of months. Then people start seeing faults in each other.
Usually one person in the relationship is little bit more patient and submissive. For some it wears off and their true feelings surface. Faults are seen and pointed out at first in a more subtle way but as time goes by it becomes open criticism. Things such as: who put trash out that day, whose turn is it to cook that night, who changes the baby's diapers, or whose turn it is to take kids out for soccer games. Once kids come into the picture most of the communication dies out about personal things.
The worst part of any relationship surfaces when one or the other person starts looking at things negatively. It might not feel like too much and initially ends up with an "I am sorry honey" or "I didn't mean it that way" or "you hurt my feelings by doing this or saying that in front of your parents". But as time goes by it turns into "you can't do anything properly", "I am getting tired of telling you this over and over", or "you are good for nothing". Some couples survive with sheer patience for each other, others continue to bicker and moan leading very discontent lives even after retirement.
In these relationships there is one simple element missing and that is communication. Some people are very content in their relationships, and they can go to his or her partner with clear and concise points. They appreciate each other's modesty and express this appreciation openly to their partners. Some couples never reveal their true feelings for each other in their hurry to point each other's faults. They miss saying things that mean more to each other.
Sometimes all it takes for a guy to say is, "Honey, I need you. I can't do this without your help." Most women like to be needed by their men. And some men never think of saying it. Either that, or the male ego can get in the way. They sometimes think it is a sign of vulnerability somehow. Sometimes it takes a woman to say, " I appreciate all the things you have done for me." or "I couldn't have done it without you". Some women think it is the guy's job to keep them happy, not the other way around. Others think it somehow puts them down in front of the men or gives them too much to take for granted. Mutual understanding, making terms work, respect and most of all open communication with appreciation for each other takes a relationship towards a lifetime of happiness for both men and women because, 'OUR LIFE MATTERS'.