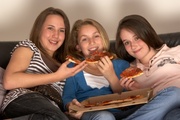 Photo: Getty Images
With my partner out of town, I delved deep into the world of guilty pleasures, courtesy of Netflix. I had read enough commentary about the "Twilight" movies to know that I had to see them, at least to truly understand what the fuss was all about. It's hard to describe just how I felt after over four hours of teenage angst and constant drama - but all I can say is there's a compelling case here for why you should be careful about letting your kids see these movies. Especially your daughters.
Its main message is traumatic and problematic - Love hurts. Physically. The only love worth fighting for is the kind that involves the constant threat of the undead, violence, pain, angst and more. I get it - when you're a teenager, love often feels painful, distance seems horrifying, and parting with a lover appears traumatic. My issue isn't with those sentiments - it's with the way those sentiments are presented. Poor submissive, anti-Buffy Bella keeps falling all over herself for Edward, an aloof, possessive and slightly creepy vampire who protects her from violence from men and vampires alike. The dynamic of the relationship is filled with the threat of violence - Bella constantly being put in danger because of Edward, turning to him to be saved over and over.
Plus, it's a movie about sex. Hey now, I'm a sexual health blogger. I have nothing against teens learning about sex. I do have a problem with poorly created messages around sex packaged in appealing story lines. So Edward refuses to "bite" Bella. He's constantly warning her about the dirty minds of male humans and vampires. She'd like to be bitten, so that she can be with Edward for eternity. The climax of the first movie involves her being forcibly bitten by another vampire. Edward is forced then to remove the venom pulsing through her vains - he hates to do it but it's the only way to save her. So there it is - Bella writhing around on the floor in pain (and pleasure?) while the love of her life saves her once again. There's a way to read biting as a metaphor for sex - in which case much of the storyline seems to revolve around rape. I can't imagine watching this movie with my daughter without having a long conversation with her about what safe and healthy relationships look like.
At the end of the day, the story alarms me. There's little female independence or agency happening in this film - in this reality, relationships are painful and violent. Attempted suicide and reckless endangerment is justified if it means getting to see your partner. There's no mutual conversation about sex, biting, souls, or anything else for that matter - there's only Bella begging and Edward deciding. If we're going to create story lines around great love stories, why do these underlying messages need to be so prevalent? A conversation about sexual health and healthy relationships has to happen alongside these movies - or am I overreacting? I leave it to you, readers.