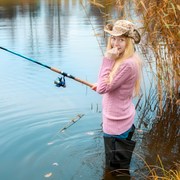 Petr Malyshev/PhotoSpin
Are you a lovely, vibrant, single woman who can't seem to meet the right man? Are you constantly choosing Mr. Wrong no matter what you do differently?
Don't worry. There's still hope that your soul mate is out there, you just need to work a little harder to find him.
Need a boost in the right direction?
Here are six tips that might help.
1. Fish in a different pond.
Instead of hanging out in the same places and with the same friends, broaden your scope a little bit. Try a coffee house or bookstore in a different part of town or even in another city. You might be surprised at what you find -- New blood.
2. Be a joiner.
If you've just started a new job or moved to a new town, find an event where you might meet guys or make friends with women who know guys, or have brothers or know people who have male siblings or single dads -- You get the picture.
3. Get political.
Are you a tree-hugger or think fracking is the new direction of the world? Volunteer for your local mayor, state congressman, or even your favorite presidential candidate. What better way to meet somebody who has the similar views?
4. Find a new church.
Has your mother ever said, "Go to church and meet a nice man," and it hasn't happened yet? Take a Sunday morning drive and find another church in another part of town or a new city. You're not looking for a new pastor, just some new people. But who knows, maybe the pastor is single and hot -- Have faith.
5. Think positive.
Next time you're walking down the street, look at yourself in a store window. Would you want to go out with you?
If you have a low self-image and dare to leave the house without mascara, lipstick, and a t-shirt with "Bad Attitude" written on the front, guys are going to think you're not good-looking -- or worse, they'll look right past you. Change up your style and attitude and see what happens.
6. Just get out there.
Unless you've had luck with men knocking on your door with a bouquet of wild flowers, you need to work a little harder to find somebody.
Dog lover? Go to a dog park. Cat lover? Volunteer at the humane society.
Gardener? Ask questions at Home Depot. Or better yet, work part-time at a home improvement store.
Want to meet a doctor? Help out at a hospital.
Need more advice? Google how to meet men. That's what I did.
Now it's your turn. Good luck.
Sources:
How to Find the Babes. Men's Health. Web. 29, August, 2012
http://news.menshealth.com/how-to-find-the-babes/2012/02/09/
5 Best Ways to Meet Men if You Are Over 35 and Divorced. Huffington Post. Web. 29, August, 2012
http://www.huffingtonpost.com/david-wygant/dating-advice-_b_854187.html
Reviewed August 29, 2012
by MIchele Blacksberg RN
Edited by Jody Smith