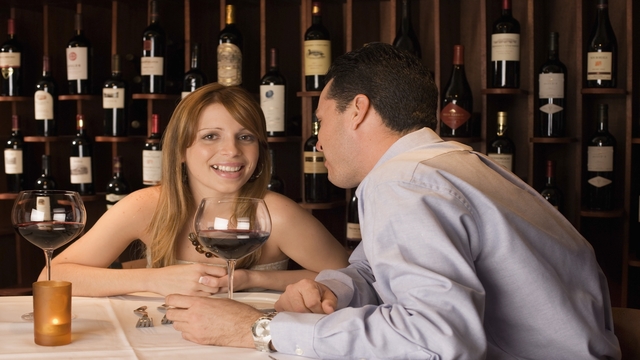 PS Productions/PhotoSpin
We've all been there: an ignorant comment or misinterpreted joke, a too-late realization that there is sauce splattered on your chin, an awkward handshake-hug-kiss-combination during your goodbye – the bottom line is that everyone believes first dates are difficult and social blunders are an inherent part of the experience. This doesn't mean that you are a terrible person. Or not worth dating. So cut yourself some slack.
Just as importantly, maybe you can cut your date some slack.
As a society, we have all become certified experts at analyzing others' behaviors and appearances. We read into the smallest Freudian slip and develop strong opinions on the implications of someone's gait, handwriting style or astrological sign. This judgment is magnified in a first date setting, not only because the person is someone we are interested in spending concentrated time with, but also because we know they are making the same assumptions, assessments and judgments about us!
While there are certain behaviors you should consider to be deal-breakers on the first date (reference my previous article!), there are also several things we have historically considered to indicate a failed date, but perhaps no longer should. Through extensive consultation with a group of dating experts, we managed to put together the list below. Of course, every person and date situation is different, but these are behaviors that you may want to consider more carefully before immediately deciding to toss your date to the curb.
Deal-Breaker Myth #1:
Your date talks about politics or religion.
In past worlds, being too upfront about your opinion was considered a first-meeting faux pas. However, as we accept and embrace the fact that politics and belief-systems are inherently tied into our daily activities, aspirations, and the way we view the world or interact with others, not talking about politics or religion can sometimes mean you are left with very little that is meaningful to say! Discussing "real" topics will help you to understand where your date is coming from. And if you disagree? Not necessarily a deal-breaker, but rather a chance to learn more. Hot topics may be a prelude to even hotter interactions!
Deal-Breaker Myth #2:
Your date is nervous and awkward.
So, he/she spills coffee all over the table or stutters when saying your name or tries a little too hard to be smooth... so what? A bit of shyness or discomfort only indicates that your date is as excited as you are! Think about being lenient when it comes to your first impression of this person's mannerisms. It is likely that his/her eye doesn't always do that weird twitchy thing, and that once you get to know each other better, he/she will laugh less nervously.
Deal Breaker Myth #3:
Your date doesn't share your likes/dislikes or interests.
There is an important difference between being similar and being compatible. Odds are high that your date will not like all the same music, be interested in all the same social issues or have the same obsession with you-tube videos of kittens that you do. If he/she is a fan of NASCAR and horror films, while you prefer golfing and the cooking channel, this doesn't mean you have nothing in common when it comes to larger values and beliefs. You have an opportunity to expose someone to your unique perspective and interests, and learn something new!
Deal-Breaker Myth #4:
You don't feel an instant "spark" for your date.
Mainstream media and Hollywood's romantic comedy enthusiasts have built an industry on the assertion that when you find "the one", you will know it immediately. Television tells us that if music doesn't start softly playing when you look into your date's eyes, or if your heart doesn't skip a beat, or if there isn't a "certain something" about this person, than there is no use pursuing any sort of relationship with him/her. Unfortunately (or fortunately!) this is not the way the real world works. Building a meaningful connection with someone takes time and effort, so save your "perfect date" fantasies for the movie stars and relish in the absolutely real, beautifully flawed, coffee-spilling human who is sitting across from you.
Other input? Differing opinions? Help those of us who flounder to figure out the confusing phenomenon of the social dating pool! Please comment below.
Edited by Alison Stanton