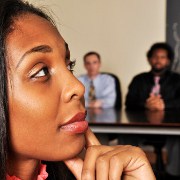 Photo: Getty Images
Keeping your friends close and your enemies closer may have a whole new meaning for elderly women. Or better yet, keeping your husband or boyfriend's enemies close may be the better rule of thumb.
According to a study published online in the American Journal of Sociology, when a woman is too close to her significant others' male friends, his performance in the bedroom tends to suffer.
In a study titled "Network Position and Sexual Dysfunction: Implications of Partner Betweenness for Men," authors Benjamin Cornwell -- a professor of sociology at Cornell University -- and Edward Laumann -- a professor of sociology at the University of Chicago -- wrote that men who find themselves in this situation "are more likely to have trouble getting or maintaining an erection and are also more likely to experience difficulty achieving orgasm during sex," compared to couples where there's a clearer line between his friends and hers.
Cornwell and Laumann examine traditional gender roles and gender identity and how the structure of social networks affects a man's health.
The authors argue that traditional masculine roles include exerting and maintaining control and independence over situations -- in this case, maintaining control over a man's friendships and intimate relationship. When a female partner gets too close to a man's friends, the man forfeits that control and independence and ultimately, researchers found, feels like less of a man because of it. And when an older male's manhood is in question, his ability to perform in the bedroom is affected.
The team's analysis of data from the National Social Life, Health and Aging Project (NSHAP) show that about a quarter of men experience what they coined as "partner betweenness" -- that is, when a heterosexual man's female partner has more frequent contact with his confidants than he does -- and that these men are 92 percent more likely to report erectile dysfunction.
The researchers found that partner betweenness is strongest among the youngest men in the sample, which may mean that social dynamics are changing and evolving in current generations. If it is becoming more acceptable and more prevalent for women to become close to their male partner's friends, one of two things will occur. Either men will need to adapt their self-held view of masculinity and thus, not feel their manhood is threatened when their female counterparts are close with their male friends. Or, women may need to recognize the importance of keeping an arm's length from their lover's friends and/or acknowledge their influence on a man's erectile dysfunction.
"The results point to the importance of social network factors that are rarely considered in medical research -- network structure and the individual's position within it," Laumann said in a Cornell University news release.
The authors consider several explanations for these findings and urge additional research on the links between health, gender and network structure.
So while it's great to make sure you get along with your boyfriend or spouse's friends, keeping their friends close may mean distance between you and your man.
An Older Man's Sex Life May Suffer When She's Close to His Friends
http://consumer.healthday.com/Article.asp?AID=655712
When a Man's Partner Is Too Close to His Friends, His Sex Life May Suffer
http://www.sciencedaily.com/releases/2011/08/110808115408.htm
Reviewed August 10, 2011
by Michele Blacksberg R.N.
Edited by Jody Smith
Bailey Mosier is a freelance journalist living in Orlando, Florida. She received a Masters of Journalism from Arizona State University, played D-I golf, has been editor of a Scottsdale-based golf magazine and currently contributes to GolfChannel.com. She aims to live an active, healthy lifestyle full of sunshine and smiles.