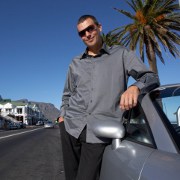 Photo: Getty Images
Men who drive flashy cars and sport lots of bling aren't all that impressive to women, according to a new study. Rather, women know full and well that these men are after one thing – or rather, lots of short-term flings.
New research by faculty at Rice University, the University of Texas San Antonio and the University of Minnesota found that men's conspicuous spending is driven by the desire to have uncommitted romantic flings.
In this study, researchers sought out to examine conspicuous consumption from an evolutionary standpoint. The team found that "conspicuous consumption is anything but a frivolous behavior; in fact, it appears to be linked to theoretically important individual differences in reproductive life history."
In today's society, "the purchase of luxury goods may be partly about the desire to fulfill social motivations and for status and prestige," but men who drop cash on lavish and 'look-at-me' items are looking for a long succession of short-term romances, the researchers said.
The series of studies entitled, "Peacocks, Porsches and Thorstein Veblen: Conspicuous Consumption as a Sexual Signaling System," was conducted with nearly 1,000 test subjects and published recently in the Journal of Personality and Social Psychology.
In one experiment, researchers found that when given the opportunity to drive a late model Porsche Carrera, men's testosterone levels actually increased, giving them a boost in confidence and feelings of manliness. Contrastingly, when men test-drove a dilapidated old station wagon in a public setting, their testosterone levels actually decreased, suggesting that luxury items influence men's confidence and ultimately their mating habits.
Three experiments by the team demonstrated that conspicuous consumption is driven by men who are follow a lower-investment mating strategy and is triggered specifically by short-term mating motives.
And a fourth experiment showed that observers interpret such signals accurately, with women perceiving men who conspicuously consume as interested in short-term mating.
So if the women see through men's conspicuous spending habits, we can't assume women are the victims here. In fact, the researchers found that women willingly partake in short-term courtship with these types of men for immediate extrinsic rewards.
"Frivolous and extravagant spending by men may signal a willingness to provide substantial economic benefits to women (e.g., extravagant gifts during courtship) in exchange for sexual access. Therefore, conspicuous spending may be a useful tactic for men to engage interest among women in short-term romantic partnerships by fostering expectations of immediate material or economic benefits," according to the study.
The study concluded that "overall, these findings suggest that flaunting status-linked goods to potential mates is not simply about displaying economic resources. Instead, conspicuous consumption appears to be part of a more precise signaling system focused on short-term mating."
So the next time a hot rod pulls up next to you when you're waiting to cross the street, think twice before giving him your phone number. That is, of course, unless you're looking for a short-term romance and a new diamond necklace.
Conspicuous Consumption as a Sexual Signaling System
www.csom.umn.edu/assets/164441.pdf
Does Driving a Porsche Make a Man More Desirable to Women?
http://www.eurekalert.org/pub_releases/2011-06/ru-dda061511.php
Peacocks, Porsches, and Thorstein Veblen: conspicuous consumption as a sexual signaling system.
http://www.ncbi.nlm.nih.gov/pubmed/21038972
Texas Business: Peacocks and Porsches
http://www.texasbusiness.com/peacocks-porsches-cms-5155
Reviewed June 23, 2011
Edited by Alison Stanton
Bailey Mosier is a freelance journalist living in Winter Park, Florida. She received a Masters of Journalism from Arizona State University, played D-I golf, has been editor of a Scottsdale-based golf magazine and currently contributes to GolfChannel.com. She aims to live an active, healthy lifestyle full of sunshine and smiles.