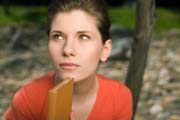 Photos: Getty Images
I recently read the book, "Crash Into Me" by Liz Seccuro. It is the author's story of a horrific rape, the affects it had on her life, and her search for justice. This is a book that every parent and young woman should read.
Although I could not relate to the experience, I could sympathize with the feelings that the author described. The night that would change her life started out like a night that many teens, including myself, have experienced.
She was only 17 and in her first year of college when she joined a friend in attending a fraternity party and found herself in a dangerous situation. I do not want to give away the details of the book. My hope is that others will read it and gain something from the painful memories that the author was brave enough to share.
The more that I read, the more it frightened me. It bought me back to my own college days and made me thankful that I never wound up in a similar situation. It easily could have occurred. I had been to plenty of parties. I had experimented with drinking. I had left myself in situations that could have gone very bad. I guess I was just lucky.
The author also describes the extent to which a violent situation can truly affect a person for the rest of their life. A painful truth for survivors is that you never forget the crime. You can heal and you can move forward but the memories cannot be erased like a bad dream. The message projected is that you can live on to rebuild yourself and help others. That is what this author has done.
The book will make you cringe at the recollection of her memories, cheer on the author as she fights for justice, and root for her strength to heal from within. Well done, Ms. Seccuro. Thank you for sharing your story.