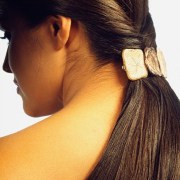 Photo: Getty Images
They're plastered in fashion magazines, on billboards and play the object of men's affection on the big-screen. Everywhere we look, gorgeous women -- models and actresses -- surround us, explicitly and implicitly telling us what the "ideal woman" is.
You would probably assume a break room poll of the "perfect" woman would yield the following results: blonde hair, blue eyes, a big bust and a tiny waist.
But a recent British poll -- whose reach extended further than the office break room -- found that men in the UK actually prefer brunettes to blondes and more of a curvy build than a wafer-thin look.
Based on results from Badoo -- a multilingual social networking website headquartered in London -- of the 2,000 men they polled, 60 percent reported they found dark hair to be more preferred than light, with 33.1 percent preferring brown hair as most attractive and 28.6 percent saying black hair was the sexiest.
Men who find blondes the sexiest made up 29.5 percent of the vote, whereas red-haired ladies came in last with only 8.8 percent of the vote.
The study's results also found that 38.8 percent of men actually favor a pretty average woman -- about a size 8 or 10 – while only 10 percent of British men preferred skinny girls -- size 2 or 4.
Let's recap what we have so far -- dark hair and curvy. But what about eye color?
The findings on eye color do align with what we traditionally expect men to prefer. Of those polled, 40.2 percent of British men prefer blue eyes, whereas 29.2 percent prefer brown eyes, 17.5 percent green eyes and 13.1 percent hazel eyes. So blue eyes take the cake, but brown eyes came in second.
Badoo also conducted their study in France, Spain, Italy, the U.S. and Brazil.
In all countries polled, more meaty, curvy women were the preferred choice for most attractive mates. Only in France did men prefer skinny women over curvy women. Of all the countries, not one of them preferred blonde hair to dark hair, with black the overwhelming favorite across the board, and brown coming in second everywhere except the UK, where brown hair came in first.
While it's the gorgeous, skinny blondes who play plenty of leading loves on the big screen, turns out men in the real world actually prefer more of the girl next door.
So if you're a brunette who went blonde or got highlights for the summer, with the fall and winter months upon us, a return to your true brown may be a very wise choice. Even wiser may be the decision to stay dark for good.
Study shows British Men Favor Brunettes Over Blondes. Huffington Post. Web. 29 Aug. 2011.
http://www.huffingtonpost.com/2011/08/25/study-men-prefer-brunettes_n_936813.html
Gentlemen DON'T prefer blondes: what men really want is a brown-haired, blue-eyed size 14 woman. Mail Online. Web. 29 Aug. 2011. http://www.dailymail.co.uk/femail/article-2029680/What-men-REALLY-want-brown-haired-blue-eyed-size-14-woman.html
Bailey Mosier is a freelance journalist living in Orlando, Florida. She received a Masters of Journalism from Arizona State University, played D-I golf, has been editor of a Scottsdale-based golf magazine and currently contributes to GolfChannel.com. She aims to live an active, healthy lifestyle full of sunshine and smiles.
Reviewed August 29, 2011
by Michele Blacksberg R.N.
Edited by Jody Smith