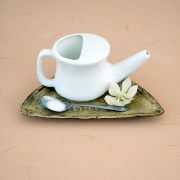 Photo: Getty Images
Colds, allergies, and sinus infections can block the nasal passages with mucus and swelling. Neti pots are widely available to irrigate the nose with salt water.
Dr. James T. C. Li provided a description on the Mayo Clinic web site. Saline nasal solutions are available over the counter.
To use a neti pot, fill it with saline solution and tilt your head over a sink. Place the spout of the pot in the upper nostril and gently pour the salt water into your nose so that it flows out the lower nostril. Then repeat on the other side.
According to Li, many users find this procedure more effective than over-the-counter medications such as decongestants and antihistamines for nasal and sinus problems.
You can make your own salt water solution, but don't use tap water unless you first boil and cool it, according to a caution from the Louisiana Department of Health and Hospitals. Eryn Brown of the Los Angeles Times reported that two people died from a "brain-eating" amoeba that caused meningitis after entering the nose from a neti pot.
Naegleria fowleri was the offending amoeba. According to Brown's report, it is rare but deadly. It is generally harmless when swallowed, but dangerous in the nose.
Most infections happen when people swim in lakes and ponds and get water up their noses. The initial sinus infection spreads into the fluid around the brain.
Dr. David Rabago and Dr. Aleksandra Zgierska of the University of Wisconsin published a report on the benefits of neti pots and similar treatments.
"Saline nasal irrigation can be performed with low positive pressure from a spray or squirt bottle, or with gravity-based pressure using a vessel with a nasal spout, such as a neti pot," Rabago and Zgierska wrote. "Both are available over the counter."
In a survey of 330 family physicians, 87 percent recommended nasal irrigation to their patients for conditions including:
1. Chronic rhinosinusitis
2. Viral upper respiratory tract infection (colds)
3. Allergic rhinitis
4. Other, less common conditions including rhinitis of pregnancy
Rabago and Zgierska referred readers to further information online, provided by the University of Wisconsin.
References:
1. Mayo Clinic. Common Cold. Question: What is a neti pot? James T. C. Li. Web. Dec. 30, 2011.
http://www.mayoclinic.com/health/neti-pot/AN01755
2. Los Angeles Times. Neti pot danger? Two die from amoeba infection. Eryn Brown. Web. Dec. 30, 2011.
http://articles.latimes.com/2011/dec/20/news/la-heb-neti-pot-amoeba-20111220
3. Rabago D et al, "Saline nasal irrigation for upper respiratory conditions", American Family Physician 2009; 80(10): 1117-19. http://www.ncbi.nlm.nih.gov/pubmed/19904896
4. University of Wisconsin. Nasal irrigation. Web. Dec. 30, 2011.
http://www.fammed.wisc.edu/research/past-projects/nasal-irrigation
Reviewed January 2, 2012
by Michele Blacksberg RN
Edited by Jody Smith
Tags: