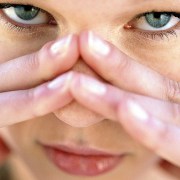 Photo: Getty Images
In the United States, about 13 percent of non-institutionalized adults have a sinus infection, also called sinusitis, according to the Centers for Disease Control and Prevention. When a person has a sinus infection, her sinuses become inflamed, which can include one or more of the four paranasal sinuses.
These four spaces are the ethmoid sinuses (which is between the eyes behind a person's bridge of her nose), sphenoid sinuses (which as behind the ethmoid sinuses), frontal sinuses (which are above the eyebrow area) and maxillary sinuses (which are in each of the cheekbones).
The type of sinus infection that a person has depends on how long the symptoms last. If symptoms last for under four weeks, it is classified as an acute sinus infection. Subacute sinus infections last between four and 12 weeks, while chronic sinus infections last over 12 weeks. If someone has recurrent sinus infections, then she has several sinus infections within a year.
Sinus infections can cause several different symptoms. The National Institute of Allergy and Infectious Diseases notes that a common symptom of a sinus infection is pain, and the location of the pain can pinpoint which sinus is inflamed. For example, if a person has pain in her teeth and upper jaw, then the maxillary sinuses are inflamed. Inflamed sphenoid sinuses can result in neck pain and deep achiness in the top of the person's head. Pain in the forehead can result from a sinus infection in the frontal sinuses, which pain between the eyes can come from inflamed ethmoid sinuses. People who have an acute sinus infection are more likely to experience pain than people who have a chronic sinus infection.
Nasal discharge can occur with a sinus infection. Some people experience these secretions draining in the back of their throats, which is called a post-nasal drip. The nasal discharge may appear blood-tinged or a greenish, yellowish or whitish color. This nasal discharge may be accompanied by nasal congestion, which NYU Langone Medical Center stated does not respond well to medications like antihistamines and decongestants.
Some people suffering from a sinus infection may experience less common symptoms. For example, they may have a sore throat and a fever. Some people may have bad breath or a loss in their sense of smell, noted MedlinePlus. A cough may occur, which may be worse at night. People with a sinus infection may also experience fatigue.
References
Centers for Disease Control and Prevention. FastStats: Sinus Conditions. 2010. Web. 22 August 2011.
http://www.cdc.gov/nchs/fastats/sinuses.htm
National Institute of Allergy and Infectious Diseases. Sinusitis: Where are My Sinuses?. National Institutes of Health, 2011. Web. 22 August 2011.
http://www.niaid.nih.gov/topics/sinusitis/Pages/where.aspx
National Institute of Allergy and Infectious Diseases. Sinusitis: What is Sinusitis?. National Institutes of Health, 2011. Web. 22 August 2011.
http://www.niaid.nih.gov/topics/sinusitis/Pages/sinusitis.aspx
A.D.A.M. Sinusitis. MedlinePlus Medical Encyclopedia, 2011. Web. 22 August 2011.
http://www.nlm.nih.gov/medlineplus/ency/article/000647.htm
National Institute of Allergy and Infectious Diseases. Sinusitis: What are the Symptoms of Sinusitis?. National Institutes of Health, 2011. Web. 22 August 2011.
http://www.niaid.nih.gov/topics/sinusitis/Pages/symptoms.aspx
NYU Langone Medical Center. Sinusitis. 2010. Web. 22 August 2011.
http://www.med.nyu.edu/content?ChunkIID=11554
Reviewed August 22, 2011
by Michele Blacksberg R.N.
Edited by Jody Smith
Tags: