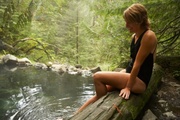 Aquagenic urticaria is the medical term to describe a hive-like rash that develops after exposure to water. Aquagenic urticaria is considered to be a rare condition but a number of people report in forums to having some sensitivity to water on their skin. It seems crazy to be allergic to something so vital to our bodies but medical literature has documented a number of these types of cases. What happens when those who have sensitivities are exposed to water?
There are various types of urticaria which literally means "hives". Aquagenic urticaria is considered to be a form of physical urticaria which is caused by an external irritation. In physical urticaria, hives may start five minutes after exposure and last up to 30 minutes or longer. The skin breaks out with small bumps or welts and splotches of redness with itchiness and pain. It is believed that aquagenic urticaria is not caused by a true allergic reaction but is an extreme sensitivity to some component in the water such as chlorine.
Aquagenic urticaria is diagnosed by testing the skin with both distilled and tap water. A response to contact with tap water is the most common type. Water may be placed directly on the skin or from a saturated wet paper towel. A positive response occurs in minutes.
It is not uncommon for someone who has one type of urticaria to have other types of physical urticaria. Cold urticartica is tested by rubbing an ice cube on the skin and a reaction is watched for as the skin re-warms. Cholinergic uticaria occurs from sweating on the skin. Contact uticaria occurs after exposure to some offending substance such as stinging nettles or as an immune reaction to a substance such as nickel.
Treatments and precautions:
Life avoiding water can be pretty difficult. People with this condition must avoid getting caught out in the rain and can only take quick showers lasting seconds. Crying causes pain and stinging from water on the face. Going for a swim is out of the question. In some severe cases, drinking water based beverages can cause swelling of the lips and tongue.
A thorough work-up, including blood work and skin testing, will be performed on a person complaining of skin rashes from exposure to water. Antihistamine medications are typically tried though they may not help since the reaction is not allergy based. Topical Benadryl spray may be used to reduce itching of the skin.
Barrier creams such as petroleum jelly may provide some extra time to prevent exposure to water on the skin. UV light treatments have also been tried but concerns of skin cancer limit their use.
In forums, some people report that they out grew the condition after several years while others are open to any new suggestions of what to try. Others report problems only with certain types of water, i.e. softened water or that they now only react to cold water or sweat. Clearly, aquagenic urticaria is not entirely so rare.
sources:
http://dermatology.about.com/cs/hives/a/waterurt.htm
http://emedicine.medscape.com/article/1049978-overview
http://thedermblog.com/2008/03/18/the-girl-who-was-allergic-to-water/
http://dermnetnz.org/reactions/urticaria.html
Michele is an R.N. freelance writer with a special interest in woman's healthcare and quality of care issues. Other articles by Michele are at www.helium.com/users/487540/show_articles