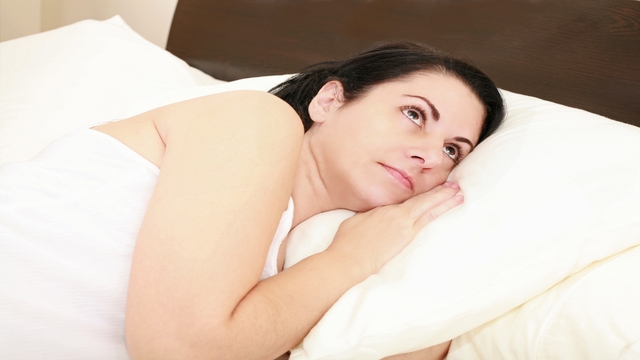 David Castillo Dominici/PhotoSpin
In the United States, around 18 million people have sleep apnea, according to the American Association for Respiratory Care.
Sleep apnea is a sleep condition in which the individual's breathing either gets very shallow or stops.
There are two major types of sleep apnea: obstructive sleep apnea and central sleep apnea.
Individuals who have central sleep apnea usually have another medical condition such as arthritis, obesity or Parkinson's disease.
Individuals who have obstructive sleep apnea have the condition due to the muscles in the back of their throats relaxing too much. Because the muscles relax too much, they are not able to breathe normally.
Several risk factors for obstructive sleep apnea involve the construction of the individual's facial area, such as a shorter lower jaw compared to the upper jaw, large tongue or large neck. In women, a large neck is considered 16 inches or more, according to MedlinePlus.
When someone has obstructive sleep apnea, she may not know that she has it. But sleep apnea has a significant impact on an individual's daily life causing issues such as irritability, feeling sleepy while driving, and forgetfulness. MedlinePlus noted that depression that worsens can occur with obstructive sleep apnea.
If obstructive sleep apnea is left untreated, it can lead to serious complications. For example, it can lead to or worsen heart disease, according to MedlinePlus. This can lead to other complications, such as stroke, high blood pressure, heart arrhythmias and heart failure.
Women face another possible issue with obstructive sleep apnea, according to a new study. The findings suggested that women experience more brain damage from obstructive sleep apnea compared to men.
A study conducted 10 years ago by UCLA found that men who have obstructive sleep apnea have brain cell damage. This same group at UCLA conducted a multi-year study, comparing white matter changes in men and women with sleep apnea.
A press release from UCLA stated that in women with obstructive sleep apnea, they found changes in white matter in the anterior cingulate cortex and cingulum bundle in the front of the brain. These areas are involved in decision-making and mood regulation.
They also found that these women had greater anxiety and depression symptoms. Compared to men, they had more damage to the brain cells.
The researchers noted that these findings suggest that women may need treatment earlier than men. Treatment for obstructive sleep apnea include continuous positive airway pressure (CPAP) and surgery.
References:
MedlinePlus. Sleep Apnea. Web. 12 December 2012.
http://www.nlm.nih.gov/medlineplus/sleepapnea.html
MedlinePlus Medical Encyclopedia. Central Sleep Apnea. Web. 12 December 2012.
http://www.nlm.nih.gov/medlineplus/ency/article/003997.htm
American Association for Respiratory Care. Sleep Apnea Facts. Web. 12 December 2012.
http://www.yourlunghealth.org/lung_disease/sleep_apnea/facts/
MedlinePlus Medical Encyclopedia. Obstructive Sleep Apnea. Web. 12 December 2012.
http://www.nlm.nih.gov/medlineplus/ency/article/000811.htm
MayoClinic.com. Obstructive Sleep Apnea. Web. 12 December 2012.
http://www.mayoclinic.com/health/obstructive-sleep-apnea/DS00968/METHOD=print
UCLA Newsroom. Women with Sleep Apnea Have Higher Degree of Brain Damage than Men, UCLA Study Shows. Web. 12 December 2012.
http://newsroom.ucla.edu/portal/ucla/women-with-sleep-apnea-suffer-240986.aspx
Reviewed December 12, 2012
by Michele Blacksberg RN
Edited by Jody Smith
Tags: