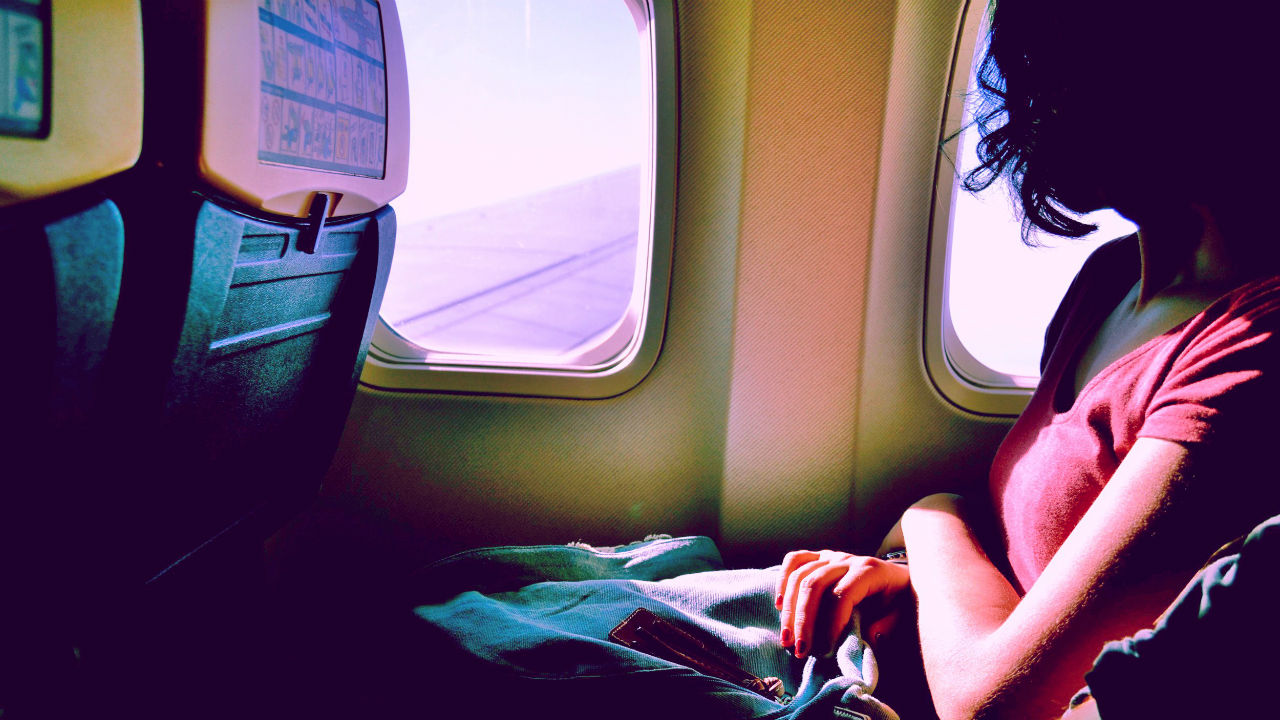 Via Unsplash Edited by Jordan Haiber
Sleeping is arguably the best pastime when you're on board a lengthy flight. However, that is definitely easier said than done. There are a plethora of things working against you when it comes to catching some shut eye on a plane. Whether it be the noise, the lack of legroom, the crying baby in the seat behind you or the sunlight blinding your eyes from another passenger's window, it seems close to impossible to catch those incredibly desired z's. Fortunately, there are a great amount of tips you can follow to lessen the struggle of sleeping on a plane.
Choosing your seat
The window seat is undoubtedly the best spot for sleeping because it gives your head something to lean on and keeps you in total control over the amount of light that pours through the window. Also, you won't have anyone in your row trying to climb over you to use the restroom. Despite them having more legroom, you may not want to go with exit or bulkhead row seats. Most exit row seats do not recline due to safety precautions, which can put a serious damper on your comfortability. Some bulkhead row seats have armrests that don't raise which also makes it hard to get in a comfortable position. Most obviously, avoid the back row of the plane at all costs. Not only is it noisy from people going in and out of the bathroom but the issue of odor could keep anyone awake.
Limit your carry-ons
Having two big carry-ons takes up a lot of the space you are confined to on a flight. Talk about zero legroom. It is pretty hard to get comfortable to get some shut eye when your legs are up and stuck in an awkward position. Do yourself a favor a pack light. Keep your necessities on the top of your bag such as water, a snack, and some form of entertainment like a book or magazine for easy access.
Dress comfortably
Wearing those tight jeans is not going to help your case when trying to snooze on your flight. Opt for a pair of presentable, yet super comfy, sweats and a loose shirt. To get an idea of the perfect flight outfit think about what you wear to those early morning college classes. That style is your go-to for a comfy, yet socially acceptable, outfit for a flight.
Skip the caffeine
Even if your flight is at the crack of dawn, do you best to skip the caffeine. You'll find it close to impossible to try and catnap while you have caffeine coursing through your body telling you to stay awake. You may be tired at the airport, but your mind will thank you when it's time to take off and fall asleep.
Getting comfortable
Respectfully recline your seat when getting ready to shut your eyes. Simply looking behind you before you recline will give the person seated there an idea your seat is about to go back a little. Most people like to recline at least a little bit during the flight so it is expected, just know your limits and don't recline an obscene amount.
Sleep essentials
They may not be the coolest looking things in the world, but neck pillows will serve up some serious comfort on a lengthy flight. A sleep mask also blocks out the light from any windows and the fluorescent reading lights above you. Wearing a sleep mask is also a good indicator that you are in fact asleep and the flight attendant will know not to disturb you when the food and drink carts come around. Ear plugs are also a great thing to have, especially if you're a light sleeper. Popping on some headphones and listening to soothing music will also quickly have you off to dreamland too.
Wake up call
This is probably the worst part, but at least you're at your destination. Waking up from a deep sleep will leave you groggy and a little out of it as everyone rushes to grab their things at once. Know when you're about to land and set a timer to wake you up around 45 minutes before. That way you'll have time gather your belongings, use the bathroom and maybe even grab a cup of coffee from the flight attendant. You'll be leaving the plane fully awake after a successful snooze.
Editing Note: This article did not filter through the normal EmpowHER editing and fact checking process. It was checked for spelling and grammar.
Read more in Being HER