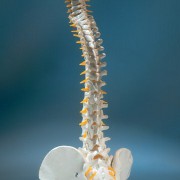 Photo: Getty Images
Spinal stenosis. Sounds scary, painful and possibly even dangerous but, I always associate danger with the spine. The reality of spinal stenosis is not quite as scary as I think it sounds, but like any medical condition, it can have it moments that seem like nothing else could be worse.
The definition of this condition is when the spaces in your spine narrow, compressing on your spinal cord and nerves. Although spinal stenosis can affect your cervical or thoracic spine, three quarters of this conditions cases occur in the lumbar spine. This is why people with this condition most commonly complain about lower back and leg pain.
Myth has it that spinal stenosis generally affects the elderly, but truth be told, depending on the cause, anyone is subject to this painful and debilitating spinal condition. Some of the most frequent causes of spinal stenosis include heredity, instability of the spine and trauma. Following in closely behind are aging, pre-existing arthritis and tumors on the spine.
In the case of heredity, sometimes if the spinal canal of the infant is too small at birth due to a structural deformity, symptoms of stenosis follow up early in the child's life. In some cases of pre-existing conditions, such as spondylolisthesis (when one verterbra slides forward onto another) or arthritis, can cause stenosis as well.
And two factors that cause spinal stenosis that can effect anyone at any age is injury or an unforeseen tumor. Although rare, there certainly are cases of spinal tumors that put insurmountable pressure of the spine, narrowing the canal. The same can be true with an injury. Accidents that dislocate or compress the spine also serve as a root for spinal stenosis.
Although back pain is the staple of this condition, when pressure is put on the nerve root, other, more serious, symptoms occur. These include difficulty walking, numbness, tingling, hot and cold sensations in the legs, and involuntary clumsiness. If you experience loss of bladder or bowel control, you should consider medical attention as soon as possible. Your nerve root in not something you want to mess with, but then again, is anything?
Hopefully you will not experience all these symptoms, but they are possible, and it is important to be aware of them, especially if they occur after an injury.