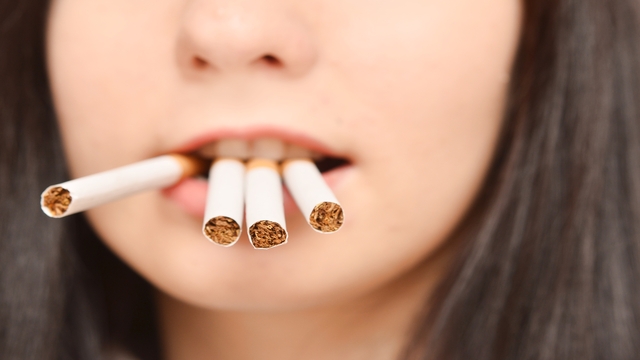 Nassyrov Ruslan/PhotoSpin
It's difficult to find a child in America these days who doesn't know that smoking is bad for them. Even if their family members smoke, their schools, doctors and advertising explain the dangers.
Smoking is slowly decreasing but one smoking choice is on the rise and that is e-smoking via battery-operated e-cigarettes.
These relatively new options are filled with nicotine but do not contain tar and many other dangerous chemicals that affect smokers and those around them, including carbon monoxide. There is no smoke, rather the nicotine is expelled via water vapor.
Unfortunately, nicotine remains highly addictive and teens are beginning to take up the e-cigarette habit in troubling numbers.
Cigarette smoking leads to several hundred thousand deaths every year in the United States by way of many cancers including lung cancer, mouth and throat cancers, cervical cancer, emphysema, heart failure, stroke and more. It can also cause dramatic aging.
An EmpowHER article states that almost 1 in 5 deaths in the United States are caused by cigarette smoking, adding up to about 443,000 deaths a year.
In fact, the CDC states that "more deaths are caused each year by tobacco use than by all deaths from human immunodeficiency virus (HIV), illegal drug use, alcohol use, motor vehicle injuries, suicides, and murders combined."
Bearing these warnings in mind, teens are switching to electronic smoking. While it does not carry risks to others around them, it still remains addictive to users. NPR has written about a new study from the CDC (Centers for Disease Control and Prevention) that has seen the use of these e-cigarettes double in just one year (2011-2012).
Based on the numbers evaluated, it is estimated that approximately 1.78 million children in middle and high school have tried this newer way of ingesting nicotine. Ten percent of American high schoolers reported that they have smoked e-cigarettes.
Because these new tobacco products have yet to withstand the test of time, long term effects cannot be evaluated. These cigarettes are currently allowed indoors, in bars, sporting events and all other places where people gather and there are no age restrictions for those who want to buy them.
They can be advertised anytime, including on television. Like the old days of advertising cigarettes, the vibe on commercials is that it's cool to smoke. Stylish black and white commercials see the likes of actor Stephen Dorff imploring us to "take back our rights" and enjoy e-smoking. Actress and health activist Jenny McCarthy advertises for the Blu brand.
Like menthol cigarettes and "slims" were targeted at women, sweet and fun flavors of e-cigarettes are popular with kid favorites like cherry and cookies-and-cream. And just like Joe Camel benefits and Marlboro Miles, some companies offer perks for their members who recommend friends to use their products.
In looking into some product websites, it would appear that e-cigarettes cost about one half per day of traditional cigarettes. Read more here: http://www.primevapor.com/pages/e-cigarette-faq-are-e-cigs-cheaper-than-...
Doctors worry about youth peer pressure and the possible transition from e-cigarettes to high toxic tobacco by young people.
From the NPR website:
"'About 90 percent of all smokers begin smoking as teenagers,' said Tim McAfee, director of the CDC's Office on Smoking and Health. 'We must keep our youth from experimenting or using any tobacco products. These dramatic increases suggest that developing strategies to prevent marketing, sales and use of e-cigarettes among youth is critical.' "
http://www.npr.org/blogs/health/2013/09/04/219097263/kids-use-of-electro...
The article also goes on to say that some e-cigarette companies would support a law that restricts the sale of their products to adults only.
Tell Us
Have you tried e-cigarettes and do you like them? Do you think they can transition regular cigarette smokers to a safer option? Do you support legislation to restrict sales to adults?
Reviewed September 18, 2013
by Michele Blacksberg RN
Edited by Jody Smith
Tags: