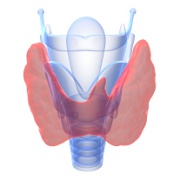 Photo: Getty Images
The thyroid gland is an important part of the human body. An organ of the endocrine system, the thyroid gland produces the thyroid hormones triiodothyronine (T3) and thyroxine (T4).
When the amount of thyroid hormones produced becomes disrupted, such as with overproduction (hyperthyroidism) or underproduction (hypothyroidism), the change in hormone level results in different symptoms.
Appetite and Weight Changes
Thyroid symptoms may include changes to the patient's appetite and weight. With hyperthyroidism, patients may have an increased appetite.
Weight loss is another possible symptom, though MedlinePlus noted that in rare cases, patients with hyperthyroidism may gain weight. With hypothyroidism, patients may have unintentional weight gain.
Sensation Changes
Altered thyroid hormone levels may cause sensation changes. For example, patients with hypothyroidism may become more sensitive to the cold. As the disease progresses without treatment, patients may have decreased senses of smell and taste.
For patients with hyperthyroidism, they may experience heat intolerance, in which they become very uncomfortable when it becomes warmer. Patients may also have increased sweating.
Gastrointestinal Symptoms
Higher or lower levels of the thyroid hormones triiodothyronine and thyroxine may result in gastrointestinal symptoms. Patients with hyperthyroidism may have frequent bowel movements and diarrhea. Constipation is an early symptom of hypothyroidism.
Skin, Hair and Facial Changes
Thyroid symptoms may include changes to the patient's physical appearance. In hypothyroidism, patients may have thin and brittle fingernails or hair. Their skin may appear pale or become dry.
Later symptoms of hypothyroidism include a thinning of the eyebrows, thickening of the skin, and puffiness of the feet, face and hands. Patients with hyperthyroidism may have clammy skin, protruding eyes, skin flushing and hair loss.
Motor and Muscular Symptoms
Patients with thyroid disease may experience symptoms that affect their muscles or motor function. For example, patients with hyperthyroidism may have hand tremors and weakness. With hypothyroidism, symptoms may include joint or muscle pain and weakness.
Gender-Specific Symptoms
Some of the thyroid symptoms are gender-specific. For example, a woman with hypothyroidism may have heavier menstrual periods than normal.
Irregular menstrual periods and a lack of menstrual periods are possible symptoms with hyperthyroidism. Men with hyperthyroidism may develop breasts.
Cognitive and Emotional Symptoms
Changes to thyroid hormone levels may affect patients' cognitive and emotional functioning. With hyperthyroidism, possible symptoms include difficulty concentrating, nervousness and restlessness. Depression is a possible symptoms with hypothyroidism.
Other Thyroid Symptoms
Other symptoms are possible with altered thyroid hormone levels. Both hypothyroidism and hyperthyroidism may cause fatigue in patients.
Hyperthyroidism may cause a goiter or thyroid nodules. Hoarseness and slow speech are possible late symptoms of hypothyroidism.
Other symptoms of hyperthyroidism include high blood pressure, difficulty sleeping, heart palpitations, irregular pulse, overall itching, and nausea and vomiting.
References
MedlinePlus Medical Encyclopedia. Hyperthyroidism. Web. 27 January 2012
http://www.nlm.nih.gov/medlineplus/ency/article/000356.htm
MedlinePlus Medical Encyclopedia. Hypothyroidism. Web. 27 January 2012
http://www.nlm.nih.gov/medlineplus/ency/article/000353.htm
Reviewed January 27, 2012
by Michele Blacksberg RN
Edited by Jody Smith