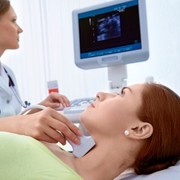 The sensitive thyroid stimulating hormone (TSH) test is generally considered to provide the most accurate measure of thyroid gland activity. In the past, physicians were unable to detect thyroid disorder until a patient's symptoms were fairly advanced. With the sensitive TSH test, however, physicians are able to diagnose thyroid disorders.
TSH tests, due to their high degree of sensitivity, enable physicians to detect even the mildest abnormalities of thyroid function.
How the Thyroid Functions
The thyroid gland operates as part of a feedback mechanism involving the hypothalamus and the pituitary gland. First, the hypothalamus sends a signal to the pituitary gland through a hormone called TRH (thyrotropin releasing hormone). When the pituitary gland receives this signal, it releases TSH (thyroid stimulating hormone) to the thyroid gland. Upon receiving TSH, the thyroid responds by releasing two hormones, thyroxine (T4) and triiodothyronine (T3), which then enter the bloodstream and affect the metabolism of the heart, liver, muscles and other organs. Finally, the pituitary "monitors" the level of thyroid hormone in the blood and increases or decreases the amount of TSH released, which then regulates the amount of thyroid hormone in the blood.
A "Measurable" Improvement in Thyroid Tests
Prior to the introduction of the TSH test, the standard blood tests for thyroid disorders measured only T4 and T3 levels in the blood. Research has shown, however, that these hormone levels can appear relatively normal even when the thyroid is not functioning normally because the pituitary gland will under or over compensate for thyroid function. When the thyroid gland begins to fail (leading to hypothyroidism or an underactive thyroid), the pituitary gland produces higher levels of TSH to increase thyroid stimulation so the gland will produce more T4 and T3.