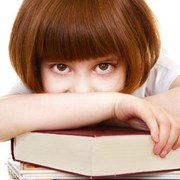 iStockphoto/Thinkstock
A neurological condition, Tourette syndrome is characterized by tics — involuntary movements and vocalizations. These tics can be simple or complex.
When a tic is simple, such as a simple motor tic, they are brief and sudden, as well as repetitive.
When a tic is complex, they involve multiple muscle groups and are coordinated in patterns. With complex vocal tics, it may involve phrases, compared to throat-clearing, which is a simplex vocal tic.
The exact number of people in the United States with Tourette syndrome is not known.
A 2007 study from the Centers for Disease Control and Prevention found that among children ages 6 through 17 in the United States, 3 in every 1,000 children have Tourette syndrome.
The data for this study was collected through parent reports.
There is no cure for Tourette syndrome. Patients may take medications to help with symptoms interfering in their everyday functioning.
The National Institute of Neurological Disorders and Stroke noted that neuroleptics are "the most consistently useful medications for tic suppression."
However, a medication that helps one patient with Tourette syndrome may not help another.
The medications prescribed for tic suppression may cause several side effects. For example, pimozide and fluphenazine may cause dulling of the mind and weight gain, according to MayoClinic.com.
One option that is showing promise for treating Tourette syndrome is behavioral therapy.
Sabine Wilhelm, Ph.D., director and the OCD and Related Disorders Program at Massachusetts General Hospital and Harvard Medical School, and colleagues conducted a study on behavioral therapy in Tourette syndrome.
Wilhelm explained to HealthDay News that "behavior therapy takes a different approach from medication. Patients often report a premonitory urge — that's an unpleasant sensation — prior to engaging in the tic, and they engage in tics in order to relieve the urge. Behavior therapy helps patients to disrupt this pattern. In behavior therapy, patients learn to detect signs that a tic will likely occur and they are taught to engage in competing responses, which are behaviors that are physically incompatible with the impending tic. Thus, patients learn new ways to manage their tics."
The study included 122 participants with Tourette syndrome or chronic tic disorder. Forty-four were women and 78 were men, with their ages ranging from 16 to 69.
Participants were assigned to one of two groups.
One group underwent eight sessions of the behavioral therapy called Comprehensive Behavioral Intervention for Tics, or CBIT, over 10 weeks. The second group underwent eight sessions of supportive treatment for 10 weeks.
Those who responded positively to the treatment underwent three monthly booster sessions.
The results showed significant improvement among participants in the CBIT group. HealthDay News reported that tic severity dropped by 26 percent in the CBIT group and 12 percent in the supportive treatment group. The research article added that besides being an effective treatment, it is also a safe treatment for Tourette syndrome.
References
Centers for Disease Control and Prevention. Tourette Syndrome: Data and Statistics. Web. 8 August 2012
http://www.cdc.gov/ncbddd/tourette/data.html
National Institute of Neurological Disorders and Stroke. Tourette Syndrome Fact Sheet. Web. 8 August 2012
http://www.ninds.nih.gov/disorders/tourette/detail_tourette.htm
MayoClinic.com. Tourette Syndrome. Web. 8 August 2012
http://www.mayoclinic.com/health/tourette-syndrome/DS00541/METHOD=print&DSECTION=all
HealthDay News. Tourette Patients Benefit from Behavioral Therapy: Study. Web. 8 August 2012
http://consumer.healthday.com/Article.asp?AID=667404
Wilhelm, S., Peterson, A.L., Piacentini, J., Woods, D.W., Deckersbach, T., Sukhodolsky, D., Chang, S., Liu, H., Dziura, J., Walkup, J.T., and Scahill, L. "Randomized Trial of Behavior Therapy in Adults with Tourette Syndrome." Archives of General Psychiatry. Web. 8 August 2012
http://archpsyc.jamanetwork.com/article.aspx?articleid=1307556
Reviewed August 8, 2012
by Michele Blacksberg RN
Edited by Jody Smith
Tags: