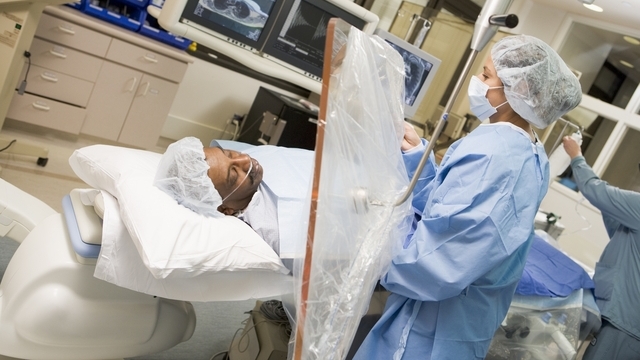 MonkeyBusiness Images/PhotoSpin
An organ transplant can be a life-saving surgery for someone with a necessary organ that is about to fail or no longer functions. But appropriate organs are not always available for transplant when needed, and not every person with organ failure is a candidate for organ transplant surgery.
The United Network for Organ Sharing (UNOS) is a private, non-profit organization that is under contract with the U.S. government to manage the nation's organ transplant system. Its job description includes:
• Matching organ donors with recipients
• Maintaining a database of information about every organ transplant in the United States
• Helping to develop and monitor policies to ensure all patients in need of an organ have a fair chance to receive an appropriate match
According to UNOS, more than 14,000 organ transplants took place in the United States between January and June, 2014. In September, nearly 80,000 candidates were on the active waiting list hoping that an organ would become available for transplant.
In order to become a candidate for organ donation, a patient must first receive a diagnosis that requires transplant surgery. The most common diagnosis is end-stage organ failure as the result of some other serious disease such as cardiomyopathy, COPD, coronary heart disease, diabetes or cystic fibrosis.
If your doctor believes you need an organ transplant, he or she will refer you to a transplant center for evaluation. The transplant center will run physical tests to determine whether you are healthy enough for successful surgery.
This includes determining whether the other organs and systems in your body are functioning well enough to support the new organ.
The center will also consider non-medical criteria to determine if you are a good candidate to receive an organ. These criteria may include:
• Life expectancy
How old are you and what other physical issues do you have? Are you likely to reach the expected "life span" of the transplant organ if you have transplant surgery?
• Past behavior
The team may take into account whether your original organ failure was the result of behaviors such as smoking, alcoholism, drug abuse or eating disorders. Continuing these behaviors after surgery could compromise a transplanted organ.
• Compliance
People who receive donor organs must comply with strict rules to ensure the health of the new organ, such as taking medications and eliminating harmful behaviors. Failure to follow your doctor's instructions for current or past treatments may make you less likely to receive a transplant organ.
• Previous transplants
The transplant team may take into account whether you have had an organ transplant in the past that resulted in a second organ failure.
Because the need for donor organs is so great, the transplant team will carefully evaluate whether you need a transplant at this time or whether other therapies including other medical or surgical procedures could delay your need for a transplant.
The transplant team will also consider your mental health as well as your social support system before deciding whether you are a good candidate for an organ transplant. If you are accepted as a candidate, your medical profile will be added to the national patient waiting list for organ transplant.
UNOS maintains the complex computerized database that is constantly updated and kept available 24 hours a day, seven days a week.
When an organ becomes available, a transplant coordinator anywhere in the United States can access the database to generate a ranked list of the best matched candidates.
Sources:
U.S. Department of Health & Human Services. Organ Transplantation: The Process. Web. September 22, 2014.
http://www.organdonor.gov/about/transplantationprocess.html
U.S. Department of Health & Human Services. Organ Procurement and Transplantation Network. Web. September 22, 2014.
http://optn.transplant.hrsa.gov
General Considerations in Assessment for Transplant Candidacy. Web.
September 22, 2014.
http://optn.transplant.hrsa.gov/resources/bioethics.asp?index=5
United Network for Organ Sharing. About Us. Web. September 22, 2014.
http://www.unos.org
United Network for Organ Sharing. How the Transplant System Works. Web. September 22, 2014.
http://www.unos.org/donation/index.php?topic=fact_sheet_1
Reviewed September 23, 2014
by Michele Blacksberg RN
Edited by Jody Smith
Tags: