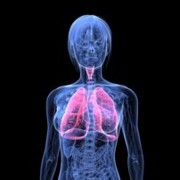 Photo: Getty Images
A teacher with a chronic cough tested positive for tuberculosis in August in Ennis High School, near Dallas, Texas. Testing on students and others with possible exposure has turned up 200 people with the bacteria and 10 with suspected active disease.
Janet St. James of WFAA-TV in Dallas/Fort Worth reported on October 6, 2011, that a suspected case of tuberculosis has raised concerns at Denton High School, north of Dallas. The 16-year-old boy was a student of the infected teacher at Ennis High School last year.
He was treated at Denton Regional Medical Center after collapsing. He suffered from fatigue and unexplained weight loss.
The Centers for Disease Control and Prevention (CDC) web site explains that not everyone infected with tuberculosis becomes ill. Latent tuberculosis infection (LTBI) is a condition in which bacteria infect the lungs, but the body is able to stop them from growing.
Individuals with LTBI have no symptoms and do not spread the disease. However, they can develop active tuberculosis if their immune system is compromised later.
Tuberculosis disease (TB) is the condition caused by actively multiplying Mycobacterium tuberculosis bacteria. The lungs are the most common site of the disease, but the kidneys, spine, brain, and most other parts of the body can be affected as well. If not treated, TB can be fatal.
TB is spread when an infected person coughs, sneezes, speaks, or sings, and a nearby person inhales the bacteria. The CDC emphasizes that TB is not spread by hand contact, food or drinks, bed linens, toilet seats, kissing, or even sharing a toothbrush with an infected person.
Most cases of TB can be successfully treated with antimicrobial drugs. Latent infections are treated to prevent development of active disease. The preferred treatment regimen is nine months of isoniazid. Patients with active disease need a combination of several drugs for 6 to 12 months.
There is a vaccine for TB, but it does not always protect people from the disease. It is not widely used in the United States, according to the CDC. Rosalind Rowland and Helen McShane of Oxford University, UK, wrote, "An improved TB vaccine regimen is an essential part of achieving effective global TB control and realizing the Stop TB targets."
The CDC recommends that anyone with possible exposure to TB contact a doctor or local health department about testing for infection.
References:
1. WFAA-TV Dallas/Fort Worth. Tuberculosis concerns spread to Denton High School. Web. Oct. 9, 2011.
http://www.wfaa.com/news/health/Tuberculosis-concerns-expand-to-Denton-High-School-131289839.html
2. Centers for Disease Control and Prevention. Tuberculosis. Web. Oct. 9, 2011.
http://cdc.gov/tb
3. Rowland R et al, "Tuberculosis vaccines in clinical trials", Expert Rev Vaccines 2011; 10(5): 645-58.
http://www.ncbi.nlm.nih.gov/pubmed/21604985
Linda Fugate is a scientist and writer in Austin, Texas. She has a Ph.D. in Physics and an M.S. in Macromolecular Science and Engineering. Her background includes academic and industrial research in materials science. She currently writes song lyrics and health articles.
Reviewed October 11, 2011
by Michele Blacksberg RN
Edited by Jody Smith
Tags: