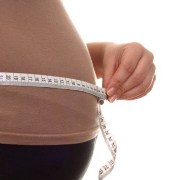 Photo: Getty Images
When you pick up a women's magazine these days, you're likely find many headlines about how to get rid of belly fat. The media has numerous words for a woman's fat belly such as tubby-tummy, jelly-belly, pot belly, and for post-menopausal women, the dreaded meno-pudge.
However, these cute names may appear to make the issue sound less than serious and more about your appearance and having a shapely figure. Yes, body image is important, but you also need to find out about the dangers of visceral belly fat.
In a recent Redbook article, "18 Symptoms You Should Never Ignore", the author Beth Janes quoted Elizabeth Klodas, M.D., a Minneapolis cardiologist as saying, "Abdominal fat changes the way our bodies work in profound ways."
She went on to say that some belly fat can sit deeper and cling to the liver and other vital organs producing hormones that may increase your chances of heart disease, diabetes, some cancers, and dementia. This visceral or intra-abdominal fat is more dangerous than skin-deep fat. "This type of fat accumulation is a health emergency," Klodas said.
"Increased liver fat is dangerous, as it is linked with many known heart disease risk factors," said Marja-Riitta Taskinen, M.D., Ph.D. study co-author and professor of medicine at the University of Helsinki in Finland. "Lifestyle modifications such as exercise and weight loss can reduce liver fat and the secretion of lipoproteins." (Read full article at sciencedaily.com source below)
How do we get rid of this health-threatening fat?
Toning or other abdominal exercises are great for shaping up, but won't help to get rid of belly fat. The good news is that visceral fat responds to the same diet and exercise strategies that are recommended for weight loss.
The Mayo Clinic staff describes an action-plan in its Women's Health section: Belly fat in women: Taking — and keeping — it off.
See the summary below:
1. Eat a healthy diet. Emphasize plant-based foods, such as fruits, vegetables, whole grains, lean sources of protein and low-fat dairy products. However, limit saturated fat, found in meat and high-fat dairy.
Instead, choose the monounsaturated and polyunsaturated fats, found in fish, nuts and certain vegetable oils.
2. Keep portion sizes in check. Cut down your portion sizes. When eating out, share meals or eat half your meal and take the rest home.
3. Include physical activity in your daily routine. The Department of Health and Human Services recommends moderate aerobic activity for at least 150 minutes a week or vigorous aerobic activity for at least 75 minutes a week. Strength training exercises are also recommended.
If you have belly fat or you tend to have an "apple-shaped" body, exercise and healthy eating are very important in protecting yourself from certain life-threatening diseases. It's not all about body image, it's about living healthy as well.
Sources:
18 Symptoms You Should Never Ignore by Beth Janes. September 2, 2011
http://www.redbookmag.com/health-wellness/advice/when-to-call-a-doctor
Belly fat in women: Taking — and keeping — it off. April 16, 2011
http://www.mayoclinic.com/health/belly-fat/WO00128
Liver, Belly Fat May Identify High Risks of Heart Disease in Obese People. Science Daily. July 22, 2011 http://www.sciencedaily.com/releases/2011/07/110721163021.htm
Reviewed September 2, 2011
by Michele Blacksberg R.N.
Edited by Jody Smith
Tags: