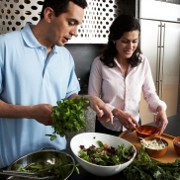 Photo: Getty Images
Every December I get bombarded with questions about how to maintain weight during the holidays. With all of the holiday parties, changes in routines, and traveling to visit friends and relatives, people tend to eat more and exercise less.
There are a few simple rules that can help you make the best choices to maintain your weight. I think the most important rule is to continue to make healthy choices about what you are eating during the holidays and the worst decision you can make is to give up on your weight goals and figure you can just start over in the new year. If you make a poor choice at one function you can still make good choices the next day or even the next meal. Once you have committed to making the best choices each day consider the some of these tips:
Prioritize your social schedule
Decide which parties you really want to go to and indulge in the food choices. Pick one or two parties where you want to enjoy the food. For all the others eat before you go and just enjoy the social aspects. This allows you to have control over your choices so you will not be tempted to overeat several times a week for the next six weeks.
Alcoholic beverages are empty calories
Drink only one or two drinks per party. Remember that you will probably be eating high caloric foods as well so you want to make the best use of your food and drink decisions. Fruity drinks or drinks with cream or milk are loaded with calories. Be sure that whenever you drink alcohol you eat some protein with it. This slows the alcohol entrance into your bloodstream. You will not get drunk as quickly. Remember to always hand over the keys if you feel impaired in any way.
Drink plenty of water
Make sure that you drink plenty of water to keep your system flushed. Whenever you drink alcohol it is important for you to drink water to prevent dehydration. Drinking plenty of water also helps to prevent some of those "hangover" symptoms.
For the rest of my tips to stay healthy during the holiday go to my website and read the entire article http://www.healthydaes.org/article1.htm.
Enjoy your holidays by choosing your meals wisely.
Live Vibrantly,
Dr. Dae
Dr. Dae's website: www.healthydaes.com
Dr. Dae's book: Daelicious! Recipes for Vibrant Living can be purchased @ www.healthydaes.com
Dr. Dae's Bio:
"Dr. Dae" (pronounced Dr. Day) Daemon Jones is a Naturopathic Physician who completed her training at the University of Bridgeport College of Naturopathic Medicine. She is certified as a General Practitioner by the North American Board of Naturopathic Examiners (NABNE). Dr. Dae provides tailored treatment to meet the unique needs of every individual she sees in her practice. She also provides specialized support for persons challenged by nutritional deficiencies, weight problems, hormonal and reproductive system disorders, attention deficit disorder and those experiencing chronic diseases. Dr. Dae is an adjunct faculty member for The Center for Mind-Body Medicine and Smith Farm Center for Healing and the Arts. She is the author of Daelicious! Recipes for Vibrant Living. Dr. Dae is a featured chef with www.myfoodmyhealth.com. Dr. Dae is a regularly featured writer for the Elite GoogleNews Website empowher.com where she shares her personal and professional vision for living whole and living well. To learn more about Dr. Dae, her products and services, please visit her on the Web at www.Healthydaes.com.