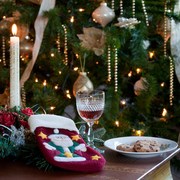 Steven Heap ( Backyard Productions)/PhotoSpin
The holidays can be a difficult time for individuals struggling with their weight.
Among overweight Americans, 25 percent dread the holiday season and 56 percent find it more difficult to maintain a healthy lifestyle during this time of the year, according to Vivus.
For some individuals, diet and exercise are not enough to lose the weight and they require medical intervention.
Individuals who are obese, or who are overweight with a serious health condition that impacts their weight such as type 2 diabetes or high blood pressure, may undergo bariatric surgery.
About 35.7 percent of the adult population in the United States is obese, according to the CDC.
Now a new option is available for weight loss for individuals who are obese or overweight having at least one weight-related condition.
Qsymia (phentermine and topiramate extended-release), made by Vivus, is a once-a-day FDA-approved medication that when combined with exercise and diet can help individuals lose significant weight.
It is the first daily combination therapy approved by the FDA.
One of the ingredients of Qsymia, phentermine (an appetite suppressant), has been used for short-term weight loss along with exercise and diet, according to the FDA.
The FDA news release stated that in two trials of Qsymia, individuals had an average of 6.7 percent of weight loss after one year of treatment with the recommended daily dose, and 8.9 percent of weight loss after one year of treatment with the highest daily dose, over treatment with a placebo.
Among individuals who did not lose at least 3 percent of their body week after 12 weeks of treatment, the FDA stated that they were unlikely to "achieve and sustain weight loss with continued treatment at this dose."
EmpowHER talked to Tim Church, M.D., M.P.H., Ph.D, Professor of Preventative Medicine at Pennington Biomedical Research Center at Louisiana State University about weight management around the holidays and why he prescribes Qsymia to his patients.
EmpowHER also talked to Gwendolyn, who has decided to take Qsymia to help her lose weight.
*************
EmpowHER:
Why is the holiday season difficult for individuals struggling with their weight?
Dr. Church:
The holidays are a tough time with excess food, shopping stress and the lack of control of our schedules. It's hard to find the time to eat right and exercise with so much going on.
EmpowHER:
How has the holiday season affected your weight loss efforts in the past?
Gwendolyn:
Before Qsymia I've always gained weight, at least five pounds, during the holidays. The difference is – you can go around with your family for Thanksgiving or Christmas dinner and you can have your meal and don't have to worry about going back for second or thirds. You don't even crave second or thirds.
It's really helped me to practice portion control. Before, during the holidays I would go back for seconds and thirds and wouldn't dare miss the pecan pie! This year I didn't have any pecan pie.
EmpowHER:
Why do you prescribe Qsymia to your patients?
Dr. Church:
It works! Except for surgery, it's really the only option for significant 10+ percent weight loss.
EmpowHER:
What made you decide to take Qsymia?
Gwendolyn:
I needed to lose weight for health reasons. I had a double knee replacement and needed to get the weight off of the knees. I'm walking around a lot at work and have to move fast. The weight on my knees was really becoming a problem.
EmpowHER:
What do people need to know about Qsymia?
Dr. Church:
Once again, it works. It is a long term option for chronic weight management in adults who are obese, or overweight with at least one weight-related medical condition such as high blood pressure, type 2 diabetes, or high cholesterol. Also, it needs to be used with caution in women that can get pregnant.
With the number of people making a New Year's resolution to lose weight, potential patients should note there's a free 2-week trial of Qsymia available now. Visit www.Qsymia.com to learn more.
EmpowHER:
What advice can you give to individuals to approach weight loss this holiday season and going into 2013?
Dr. Church:
Have a plan before the challenging situation! We are horrible at making good decisions at the point of purchase but we are pretty good when we have a plan.
Gwendolyn:
First I would tell them to speak to their doctor, maybe see a nutritionist which has helped me. Everyone is different and the most important thing is to come up with a plan that works for them. For me using Qsymia along with diet and exercise has helped me to lose weight and keep it off.
Qsymia is approved for individuals who have a BMI of 30 or greater, or have a BMI of 27 or greater and at least one weight-related condition. It should be used in conjunction with exercise and a reduced calorie diet.
*************
While Qsymia can help individuals struggling with their weight, potential patients should keep in mind the possible side effects. The FDA stated that the most common side effects of Qsymia include constipation, dizziness, tingling in the hands and feet, insomnia, altered taste sensation and dry mouth.
Possible serious side effects of Qsymia include a depressed mood, dangerously high blood pressure, trouble concentration, pounding heartbeats, low potassium, blurred vision, and severe lower back pain.
Patients experiencing any of these serious side effects should contact their health care provider immediately.
Pregnant women should not take Qsymia, as it can cause birth defects or harm the unborn child. Other contraindications include an allergy to either phentermine or topiramate, an overactive thyroid, and glaucoma.
The effect on cardiovascular morbidity and mortality and the safety of Qsymia combined with other weight loss products have not yet been established. You should not take Qsymia if you also take a monoamine oxidase inhibitor (MAOI) or have done so within the past 14 days.
Talk to your health care provider about whether Qsymia is an appropriate medication for you.
References
Interview with Tim Church, M.D., M.P.H., Ph.D. Email. 18 December 2012.
Interview with Gwendolyn. Email. 18 December 2012.
Vivus. Not-So-Happy Holidays for Overweight Americans. Web. 19 December 2012.
http://visual.ly/not-so-happy-holidays-overweight-americans
Qsymia Press Release (Password Protected). Web. 19 December 2012.
MedlinePlus Medical Encyclopedia. Body Mass Index. Web. 19 December 2012.
http://www.nlm.nih.gov/medlineplus/ency/article/007196.htm
CDC. Adult Obesity Facts. Web. 19 December 2012.
http://www.cdc.gov/obesity/data/adult.html
Drugs.com. Qsymia. Web. 19 December 2012.
http://www.drugs.com/qsymia.html
Reviewed December 20, 2012
by Michele Blacksberg RN
Edited by Jody Smith