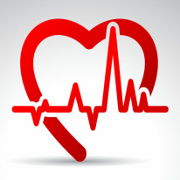 Photo: Getty Images
Named for cardiologists Dr. Louis Wolff, Sir John Parkinson and Dr. Paul Dudley White, WPW syndrome affects approximately one out of every 500 people. Although it may affect people of all ages, WPW often presents for the first time during late teens or early 20s.
It's also one of the more common causes of a rapid heartbeat, or tachycardia, in young children and infants.
Sometimes referred to as preexcitation syndrome, WPW is a condition which is caused as a result of an extra electrical signal pathway between the atria or upper chambers of the heart and the ventricles or lower heart chambers.
This electrical shortcut or bypass may cause persons with WPW to experience a heart rate that is much more rapid than normal. This super-charged heart rate is referred to as supraventricular tachycardia.
One of the more common symptoms of WPW is a rapid heart rate. However, rapid heart rate is not experienced by all WPW patients. Other symptoms may include conditions such as shortness of breath, fainting, dizziness, or light-headedness.
Some WPW patients also experience heart palpitations or chest pain. It's also common to experience periods of anxiety or to tire during normal exercise.
WPW can be quite serious and may result in sudden death. During an episode of WPW tachycardia, the heart rate may exceed 230 beat per minutes.
The symptoms for WPW in infants are different than in adults. Parents should watch for shortness of breath and heartbeats which are rapid and easily visible on the infant's chest.
Other symptoms include poor eating along with inactivity. In addition, the infant may not be alert.
If your doctor suspects that you have WPW, he may order an electrocardiogram or ECG. WPW's characteristic extra electrical bypass signal creates a specific type of delta or pre-excitation waves which is detectable on an ECG.
Sometimes, your physician may use a Holter monitor to determine if you have WPW. A Holter monitor is a device which is generally worn for 24 to 48 hours and records all of the heart's activity during that period.
The actual location of the extra electrical pathway is detected by an Intracardiac electrophysiology study (EPS). This study is must be conducted in a medical facility and involves placing electrodes in the heart itself.
Treatment for WPW varies and may include medications such as adenosine, amiodarone, and antiarrhythmics such as flecainide (Tambocor) or propafenone (Rythmol, Rythmol SR) to help maintain a normal heart rate. Vagal maneuvers are also helpful in slowing the rapid heart rate for some WPW patients.
The vagus nerve helps regulate heart rate. Vagal maneuvers may affect the vagus nerve and aid in slowing a heart rate which is too rapid. These include coughing, facial ice packs, or bearing down similar to bearing down when taking a bowel movement.
Persons with WPW should also avoid substances such as caffeine and alcohol which may cause their heart rate to rise.
When medications fail, cardioversion or shock treatment may be used in severe cases of WPW to restore a normal heartbeat. Another common treatment preferred by physicians is catheter ablation.
Catheter ablation involves inserting a tube into the heart where special radio frequencies are used to destroy the extra electrical pathway that is causing the problem. If other heart problems exist, open heart surgery may be performed to correct the condition.
For most patients with WPW, the long-term outlook is good. The majority of WPW patients -- 85 to 95 percent -- who undergo catheter ablation experience no further symptoms.
It should be noted that complications can -- and do -- sometimes occur. Some people may experience blood pressure which is lower than normal. Medications may cause side effects and complications may occur from surgery. It's also possible to experience heart failure with WPW.
If you have WPW, you should contact your physician immediately if you experience breathing difficulties, rapid heartbeat, or chest pain.
In addition, people with WPW should make certain that others know to call 911 immediately if fainting occurs as this could be a symptom of a serious escalation of their condition and may be life-threatening.
Sources:
Wolff-Parkinson-White syndrome. A.D.A.M. Medical Encyclopedia, National Center for Biotechnolgoy Information U.S. National Library of Medicine. 08 Aug 2011.
http://www.ncbi.nlm.nih.gov/pubmedhealth/PMH0001206
Wolff-Parkinson-White (WPW) syndrome. The Mayo Clinic. 25 Feb 2011. http://www.mayoclinic.com/health/wolff-parkinson-white-syndrome/DS00923
Wolff-Parkinson-White syndrome. MedlinePlus. Retrieved Jan. 23, 2012
http://www.nlm.nih.gov/medlineplus/ency/article/000151.htm
Intracardiac electrophysiology study (EPS). A.D.A.M Medical Encyclopedia,
National Center for Biotechnology Information U.S. National Library of Medicine. 16 May 2011.
http://www.ncbi.nlm.nih.gov/pubmedhealth/PMH0004318
Reviewed January 23, 2012
by Michele Blacksberg RN
Edited by Jody Smith