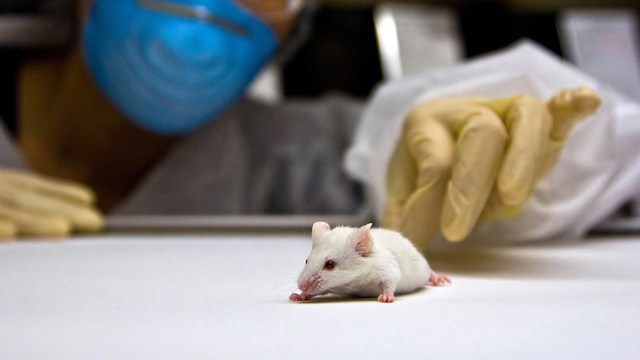 Paul Hakimata/PhotoSpin
UCLA researchers may be one step closer to finding a cure for a fast-growing and deadly blood cancer, acute lymphoblastic leukemia (ALL) that affects infants, children, and more rarely, adults.
In a remarkable discovery, a diverse team of researchers from UCLA's Jonsson Comprehensive Cancer Center has developed an experimental treatment that eradicates ALL in mice without any detectable toxic side effects.
The drug works by blocking two important metabolic pathways that the leukemia cells need to grow and spread, most often to the liver, spleen, and throughout the body.
ALL is an acute type of leukemia that affects the white blood cells called lymphocytes. White blood cell growth is accelerated, which eventually crowds out healthy bone marrow, preventing it from making the normal red blood cells, white blood cells, and platelets that your body needs.
There are about 6,000 new cases of ALL diagnosed in the United States each year. About 1,400 of those cases are fatal. ALL can cause a variety of symptoms, but the most common are fever, fatigue, loss of appetite or weight, pale skin and night sweats.
The new experimental drug works deep within the cells to block specific chemical pathways that feed out-of-control cancerous blood cell growth. When drug molecules were used to block these pathways, the cancer cells died.
The study was led by Dr. Caius Radu, associate professor of the biomedical physics interdepartmental program, and molecular and medical pharmacology, and Dr. David Nathanson, assistant professor of molecular and medical pharmacology. It was published online ahead of print on February 24, 2014 in The Journal of Experimental Medicine.
The researchers found that two pathways, the de novo pathway and the nucleoside salvage pathway, produce an important chemical called deoxycytidine triphosphate.
When an existing drug that's commonly used in treating leukemia was given to block the de novo pathway in a leukemia cell, the cancer cell simply chose an alternative route through the nucleoside salvage pathway (NSP). Once the cell had a clear path, it began producing the chemicals it needed to survive.
This may help explain why 80-90 percent of adults with ALL achieve remission with treatment, but about 40 percent of those patients have a relapse, according to American Cancer Society figures.
To counter cells switching to the alternative pathway, the researchers created a small-molecule drug called DI-39, which blocks the NSP. When DI-39 is used in conjunction with the commonly prescribed drug, both pathways are blocked with a one-two punch triggering leukemia cells' death.
Researchers tested DI-39 in mice with ALL and achieved promising results. The treatment eradicated the cancer cells, leaving healthy blood cells alone, and the mice suffered no detectable side effects.
The researchers are moving forward with testing to see if humans achieve the same results in upcoming clinical trials.
"All cancer cells utilize these two pathways, and they have a strong avidity for these nucleotides to synthesize their DNA or repair it," Nathanson said in a press release. "Thus, we believe that this treatment strategy might be applicable across other blood malignancies besides leukemia."
The novel drug was developed exclusively at UCLA and supported by the UCLA Scholars in Oncologic Molecular Imaging Program (SOMI), the Jonsson Comprehensive Cancer Center at UCLA, and the National Cancer Institute of the National Institutes of Health.
"I hear people say that drug discovery should be done in academia, and development done elsewhere, such as in industry," said Radu in a written statement.
"With Di-39 we show that everything can be done in the academic environment. We started this project from scratch and with the help of UCLA scientists from many different disciplines and now we have taken the drug through all the steps and are nearly ready for clinical trials."
Lynette Summerill is an award-winning writer and watersports junkie who lives in San Diego with her husband and two beach loving dogs. In addition to writing about cancer-related issues for EmpowHER, her work has been seen in publications internationally.
Sources:
Experimental Treatment Eradicates Acute Leukemia in Mice. Shaun Mason, ULCA Press Release. 24 Feb. 2014.
http://www.sciencedaily.com/releases/2014/02/140224092011.htm
Co-targeting of convergent nucleotide biosynthetic pathways for leukemia eradication. David A. Nathanson et al . 24 Feb. 2014. JEM. doi: 10.1084/jem.20131738 . Abstract at:
http://jem.rupress.org/content/early/2014/02/18/jem.20131738.abstract
Acute lymphocytic Leukemia. MedlinePlus. National Institutes of Health.
http://www.nlm.nih.gov/medlineplus/ency/article/000541.htm
Acute lymphocytic leukemia. American Cancer Society.
http://www.cancer.org/cancer/leukemia-acutelymphocyticallinadults/overviewguide/leukemia-all-overview-key-statistics
Acute lymphocytic leukemia. American Cancer Society.
http://www.cancer.org/cancer/leukemia-acutelymphocyticallinadults/overviewguide/leukemia-all-overview-survival-rates
Reviewed February 25, 2014
by Michele Blacksberg RN
Edited by Jody Smith