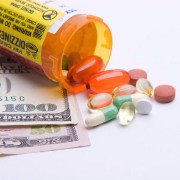 Photo: Getty Images
Several documentaries and news stories have come to light recently about the explosion of "pain management centers that supply patients with pain relief medications". Law enforcement would interpret this quote as drug and pill mills that dole out copious amounts of prescription drugs, done for dubiously legitimate doctors who cater to drug addicts.
Many states, particularly Florida and Ohio, have seen a huge surge in these clinics which are often in low rent neighborhoods with no signs on the building or that simply read Pain Management Clinic. These cater to hundreds and sometimes thousands of people who are addicted to such pain killers as Oxycontin, Vicodin, Percocet, Soma (a muscle relaxant) and more. They even offer coupons. Some take the pills themselves, others sell them for profit to addicts elsewhere. It's a cash-only business that often requires nothing more than ID, a copy of a personal medical record (all a person has to do is to mention being in pain to his or her doctor to have it recorded on the records, thus giving a pill mill doctor permission to prescribe a powerful narcotic to anyone who walks in the door with this on his or her record) and cold hard cash. Often times the medical records aren't even needed, according to anonymous sources, who worked in the industry. It's a doctor-patient relationship that law enforcement (and the medical community) call a real life dealer-drug addict affiliation.
The doctors and nurses in these so-called pill mills are qualified but have taken the route of pain clinics rather than regular practices. What goes on behind closed doors, however, violates many states laws. Physical exams are not done (and these are mandatory) and the cash-only, no receipt policies are against health care policies. The patient is often allowed to choose his or her own pain killer. When offered a choice of medication, the patient picks out his or her drug of choice. Undercover investigations, shown on numerous documentaries, show receptionists instructing buyers to come back with cash and ID (which may or may not be legitimate) and are told they will be seen and given the drugs immediately. Again, the cash-only policy is advised.
Lines are seen outside these buildings, that are often protected by plain clothes security to make sure police or other investigators aren't sniffing around. And once a buyer leaves the building, cameras occasionally capture them selling their wares to others hanging around the neighborhoods.
Law enforcement has seen the deadly results of these pill mills that have flooded states like Florida, where buyers drive down from as far away as Michigan because the prescriptions are large enough to warrant a trip of that magnitude. Buses are also charted. Law enforcement has warned that these so-called pain management clinics are drug dens, and doctors are misusing their licenses to a criminal degree. Florida has over 850 of these clinics and prescribes more of these pain pills than all other states combined. Florida has no prescription pain medication database, allowing pill mill doctors to dispense anything they want, in any dose. These pills mills are illegal, but they are hard to infiltrate.
The Drug Enforcement Agency is adding the medical community to their plan of action. Doctors will have to undergo training for prescription abuse and all will be held accountable for what they prescribe. A nationwide prescription drug policy will be enforced and a national database to track prescriptions is on its way to completion.
According to the Centers for Disease Control and Prevention, pain killers account for most of the 20,000 deaths that occur in the United States every years due to drug overdoses, with Florida being the state hardest hit. There are over 1.2 million prescription drug overdoses every year in the United States. For more information and statistics on the state of prescription drug overuse and abuse, check the CDC's report here: http://www.cdc.gov/HomeandRecreationalSafety/pubs/RXReport_web-a.pdf
Some of the information in this article came from a viewing of the documentary The Oxycontin Express (Vanguard) that can be seen in full here: http://www.hulu.com/watch/100279/vanguard-the-oxycontin-express
Tell Us:
Has prescription pill abuse affected your life? How?
Tags: