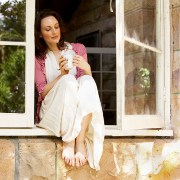 Photo: Getty Images
In April it will have been four years that I have not taken a drink. By this I mean, it's now August, so I am three years and four months into my life as a sober woman and sobriety has taught me more than I ever thought possible.
For one thing, it has taught me about addictions of all shapes and sizes. Struggling with the reality that it's difficult, if not impossible for me to just drink a little (some surround sound speaker system opens up in my brain which tells me to "get more" when the bottles are empty) has awakened me to all sorts of messages and mixed messages sent by this media saturated culture of ours when it comes to addictions to food, addictions to dieting and addictions to sex, drugs, and perfectionism.
The fact that obsessive, driven, extreme modes of operating and behaving are rewarded in our culture by the media (lots of attention for those at 80 pounds, and even more for those who die too soon) and our employers (staying late again! Good for you! No rest for a workaholic like you!) and even our families (he's on the soccer, football AND the debate team - plus he's taking AP Biology and applying to colleges early!) it's no wonder we become addicts in all types of ways.
Slowing down and taking stock of our actual feelings may mean less productivity, less extreme achievement or beauty or fitness, less extreme sports, less shiny hair, and, let's face it, the flip side of this coin may mean less nervous breakdowns, eating disorders, depression, anxiety and dysfunctional behaviors.
While the current economic crisis is deadly and devastating for so many of us, in certain ways it has forced us to examine our 1980's hangover from the addiction to speed, money, and easy spending. We are now sobering up, trying to get off the sauce of foreign oil, credit cards, big, fancy, gas guzzling cars and doing whatever we want, whenever we want.
Americans have long admitted to being overly indulged when it comes to quality of life, a better way of life, democracy, opportunities to live "the American Dream" but now we are hitting bottom, being forced to face our own spoiled, addictive habits and behaviors and learning to take baby steps toward maturity. We are spending less, saving whatever we can, living with people we once thought we no longer needed, recycling, looking for hybrid and electric vehicles or biking and walking. We are bartering, trading and cooperating with our friends and neighbors again for the first time in, well, decades. We are getting rid of cable, getting rid of the home phone, paring down, throwing out junk, having yard sales, lugging our bicycles onto the subway.
If alcoholism has taught me anything, it's that addiction is a person's way, has historically been my way, of retreating to a place that felt safe. This is not an inherently bad or destructive thing, it is a natural reaction to feeling threatened or attacked, insecure or unsure, anxious or even angry and sad. But whether the retreat to safety comes in the form of watching twelve hours of reality television, eating fourteen bags of chips, smoking thirty packs of cigarettes or dieting and exercising until you look like the addicted, smoking, narcissistic movie star you think you're supposed to look like, the feelings and loss of inspiration are the same.
For once you give yourself to an addiction, the possibility of spontaneous action, breaking the cycle, being truly alive, is greatly reduced. It truly doesn't matter what the addiction is, the drive for perfection, retreat and a sense of peace are the same.
The trouble is, these balanced feelings take real work and courage to have in a legitimate way, without the crutches and the dependency. Plus, they take a healthy dose of actual love for yourself, your family, and your life - love which, somehow, we are taught isn't quite as important as making the grade.
Perhaps by prioritizing our caring selves and not our perfect selves we can wean ourselves off of our addictions and begin to take care of ourselves, our loved ones and our homes, including this lovely planet of ours, continually giving us sunrises and sunsets without expecting anything in return.
Aimee Boyle lives and works, writes and reads in CT. She is a regular contributor to EmpowHER.
Edited by Jody Smith
Tags: