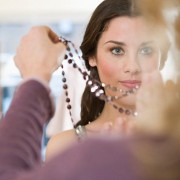 Photo: Getty Images
The Mayo clinic performed a study in 2006 inwhich almost 4,000 patients were examined over a 5-year period to determine which substances most frequently caused skin dermatitis. Skin dermatitis can occur after contact with an allergen causing the skin to become red, swollen and itchy. The rash may resolve on its own but continued exposure to a particular irritant can cause the rash to last longer and be more severe.
The allergens that caused the most skin reactions were:
1. Nickel- this metal is often in jewelry such as pierced earrings or in buttons, clasps and zippers.
2. Gold- while often thought to not cause allergies, gold jewelry is not actually pure gold but may be mixed with other metals such as nickel or copper.
3. Balsam of Peru- a fragrance in perfumes or lotion, can also be found in spices, flavorings and mentholated tobacco.
4. Thimerosal- a mercury-based preservative used in vaccines but also is found in antiseptic sprays and even cosmetics.
5. Neomycin sulfate-a topical antibiotic ointment or cream but also is found in pet food, soaps, deodorants and ear drops.
6. Fragrance mix- is a combination of eight of the most common allergens found in a variety of products such as food, cosmetics, antiseptics and insecticides.
7. Formaldehyde- is used as a preservative in numerous products such as wrinkle free clothing (see my article at www.empowher.com/skin-hair-amp-nails/content/how-wrinkle-free-clothing-can-cause-skin-irritation), household cleaners and cosmetics.
8. Cobalt chloride- is a metal commonly found with nickel used in hair dye and objects that are metal plated such as snaps or buttons. Wet clay can also have cobalt in it.
9. Bacitracin- a topical antibiotic, similar to Neomycin, found in ointment and creams.
10. Quaternium 1.5- is a preservative found in cosmetics, shampoos, nail polish and sunscreen.
The researchers used patch testing to determine which allergens caused the most frequent allergies. Patch testing involves putting the suspected substance on the skin and leaving it in place for two days covered with a patch. The patients were tested with approximately 69 allergens. Almost 70 percent of the patients reacted to one allergen and 50 percent reacted to two.
Interestingly, a follow up study was performed a year later through a survey mailed to the patients. It showed that only about 50 percent of the patients remembered the allergens they had a reaction to. This discovery made the researchers realize how important it is for health care providers to keep reminding patients to keep track of those substances they are allergic to in order avoid future outbreaks.
If you are allergic to any medication or know you get a skin reaction to a substance, write it down on a piece of paper and keep it in your wallet. Periodically you can pull it out, especially if you are buying something that may contain the irritant, to prevent an unexpected skin reaction from occurring.
sources:
www.sciencedaily.com/releases/2006/03/060303204044.htm
Michele is an R.N. freelance writer with a special interest in woman's healthcare and quality of care issues. Other articles by Michele are at www.helium.com/users/487540/show_articles