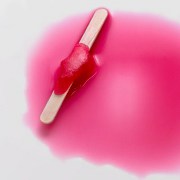 Photo: Getty Images
Unilever United States, Inc. is recalling some mislabelled popsicles due to undeclared milk in their products. The affected ice pops are:
Sugar free orange
Cherry and grape flavor
Some of these boxes have mistakenly contained Popsicle® brand Sugar Free Healthy Bunch® Fudgsicle® and Creamsicle® ice pops, which all contain milk. The affected product is sold in a paperboard box, containing 24–1.65 FL OZ (48.7 ML) POPS with a unit UPC code of 7756702295, with date codes of OCT0312GCD, OCT0412GCD, OCT0512GCD, OCT0612GCD and OCT0712GCD.
The product was sold in the following states:
Alaska, Arizona, California, Colorado, Florida, Georgia, Hawaii, Idaho, Illinois, Indiana, Iowa, Louisiana, Michigan, Oregon, Texas, Utah, Washington and Wisconsin.
Facts about Allergies
• A survey found that over half (54.6 percent) of American people test positive to at least one allergen.
• Allergic diseases affect up to 50 million Americans.
• Milk allergy is the most common childhood food allergy, affecting 2.5 percent of babies and toddlers less than three years of age.
• Food allergy (of all kinds) causes around 200 deaths per year in the US.
Customers who bought the affected product are asked not to eat it and to retain the outer box and call 800-896-9552, which is a 24 hour a day line, to request a replacement coupon.
A warning has been placed on the food allergy website: http://www.foodallergy.org/
Sources: FDA Press Release, 11th August 2011. http://www.fda.gov/Safety/Recalls/ucm267773.htm
American Academy of Asthma, Allergy and Immunology, Allergy Statistics, page accessed 12th August 2011.
http://www.aaaai.org/about-the-aaaai/newsroom/allergy-statistics.aspx
Reviewed August 12, 2011
by Michele Blacksberg R.N.
Edited by Jody Smith
Tags: