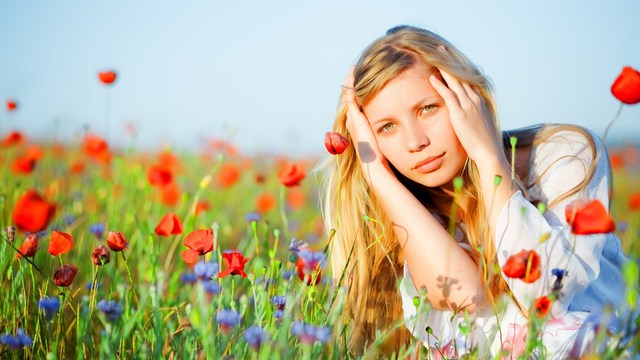 Design Pics/PhotoSpin
After a long and snowy winter in several parts of the United States, spring has finally sprung. The weather is warming up and flowers are beginning to bloom. But for many individuals, those flowers mean runny noses and itchy eyes.
About 40 million people in the United States have an indoor or outdoor allergy, according to the Asthma and Allergy Foundation of America. Common allergies include grass and weed pollen, animal dander, mold spores and trees.
The bodies of most individuals do not react, but the immune systems of allergy sufferers see the allergen as an irritant resulting in an inflammation response, according to Robert Eitches, M.D., an allergy specialist. The symptoms of seasonal allergies result from the body trying to "fight" the allergen.
Having seasonal allergies can significantly impact sufferer's daily lives.
"I'm a long time allergy sufferer – spring pollen is one of my triggers," said Brooke Burke-Charvet, actress and co-host of Dancing with the Stars.
"Once the flowers start blooming my symptoms kick in: sneezing, runny nose, and worst of all the itchy, watery eyes. It slows me down as a mom. And while no one wants to experience these symptoms ... it can be really embarrassing when you're on TV."
Dr. Eitches noted that young adults can be thrown off by seasonal allergies. They are not as productive at work, or end up having to miss work.
In a survey commissioned by Merck, 72 percent of adults with allergies reported that they do not feel like themselves when they are having symptoms.
The same survey found that 55 percent reported exercising less, 45 percent reported spending less time cleaning, and 37 percent reported having a reduced social life when experiencing symptoms.
Sleep is also affected by seasonal allergies. The survey found that 62 percent of allergy sufferers have disturbed sleep, resulting in recurrent fatigue.
And it is not just the allergy sufferers who have trouble with their sleep: Dr. Eitches noted that their spouses also lose a good night sleep because of the coughing and sneezing.
Allergy sufferers can do several things to reduce their exposure to allergy triggers.
For example, Dr. Eitches recommended that sufferers should try to avoid exercising outside between the hours of 5 a.m. and 10 a.m. If that is your workout time, try exercising inside.
Try reducing the time you spend outdoors mowing and gardening. If you do those activities, wear a mask, and when you come inside, change clothes and take a shower.
For pet owners, brush your pet before coming inside so any pollen picked up does not get carried your home.
Allergy sufferers can track the pollen count in their area. Claritin's Allergy Forecast allows users to enter their zip code and look up the pollen count in their area.
If you are having symptoms of a seasonal allergy, start treatment as soon as you can instead of suffering for weeks, recommended Eitches. He suggested that once you start treatment, continue so that you are covered for the season.
Options range from over-the-counter medications, such as an oral antihistamine, to allergen immunotherapy. This involves receiving injections from a physician with a small amount of the allergen done over several weeks or months.
"Claritin really works for me," said Brooke. "I teamed up with them again this spring – and took on their 'Claritin Clear Challenge.' It's simple – as soon as my allergies start, I take one non-drowsy Claritin. I take it every day of my allergy season – as long as the pollen keeps flying for continuous relief."
You can read more about the challenge and Brooke's story at www.ClaritinChallenge.com/
Eitches warned that individuals should be careful when using decongestants for seasonal allergy symptoms. While they can be helpful every once and a while, the body becomes addicted to them, resulting in a rebound effect even if there is no pollen in the air.
References:
Interview with Robert Eitches, M.D. Phone. 8 April 2013.
Asthma and Allergy Foundation of America. Allergy Facts and Figures. Web. 10 April 2013.
http://www.aafa.org/display.cfm?id=9&sub=30
MedlinePlus. Is It a Cold or an Allergy?. Web. 10 April 2013.
http://www.nlm.nih.gov/medlineplus/magazine/issues/summer11/articles/summer11pg20.html
Interview with Brooke Burke-Charvet. Email. 5 April 2013.
Marketwire. Brooke Burke-Charvet Teams up with Claritin and Shares Sneak Peak of Daily Life with Allergies. Web. 10 April 2013.
http://www.marketwire.com/press-release/brooke-burke-charvet-teams-up-with-claritinr-shares-sneak-peek-daily-life-with-allergies-1770578.htm
Mayo Clinic. Seasonal Allergies: Nip Them in the Bud. Web. 10 April 2013.
http://www.mayoclinic.com/health/seasonal-allergies/AA00060/METHOD=print
Reviewed April 10, 2013
by Michele Blacksberg RN
Edited by Jody Smith
Tags: