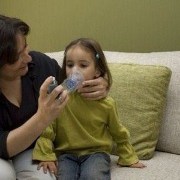 Photo: Getty Images
The company Shata Trading Inc. are recalling their Three Rivers Brand Golden Raisins because they contain undeclared sulfites. The Three Rivers brand raisins are sold in 400g, uncoded, clear plastic bags and distributed in the state of New York.
What are Sulfites?
They are preservatives and enhancers added to food. They also occur naturally in wine and beer during manufacturer of those products.
In 1986, the FDA banned sulfite use on fresh fruit and vegetables but it is still present in many pre-packed or processed foods. It is legal for them to be present in these foods but manufacturers must declare so on the label. Around one in 100 people are sensitive to sulfite, ranging from mild sensitivity to life threatening allergic reaction.
People with asthma are particularly at risk because if they consume products containing sulfites, they are more likely to have a severe reaction if they have more than 10mgs of sulfites.
If you have asthma or an allergy to sulfites, you should look for the following labels on food that indicate sulfites: Sulfur dioxide, potassium bisulfite, potassium metabisulfite, sodium bisulfite, sodium metabisulfite, sodium sulfite.
Consumers who have purchased Three Rivers Brand Golden Raisins are urged to return it to the place of purchase for a full refund. Consumers with questions may contact the company at 718-369-7000.
Sources:
FDA Press Release, 28th July 2011 - http://www.fda.gov/Safety/Recalls/ucm265882.htm
Allergies and Sulfite Sensitivity, Web M.D, page accessed 29th July 2011 - http://www.webmd.com/allergies/guide/sulfite-sensitivity
Reviewed July 29, 2011
by Michele Blacksberg R.N.
Edited by Shannon Koehle
Tags: