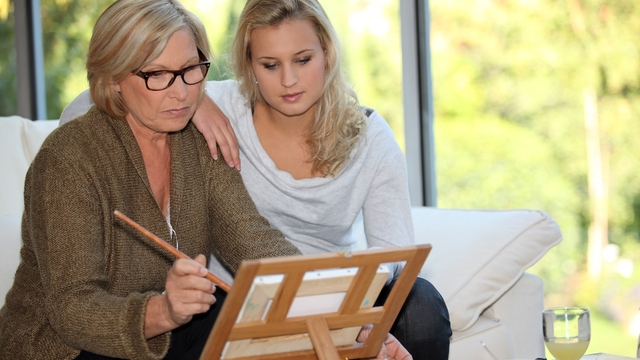 Auremar/PhotoSpin
For people with Alzheimer's disease, art and music therapy can provide outlets for communication and connections with the past, even after memories and speaking ability are diminished.
Alzheimer's disease is a type of dementia in which the nerve cells in the brain die. People with Alzheimer's gradually lose the ability to recall words and understand conversation, which makes communication very difficult.
They may not recognize friends and family members and may become confused, angry, restless or fearful.
Both art and music therapy can improve quality of life for people with Alzheimer's disease by helping them engage with caregivers and find outlets to express emotion even after their dementia has progressed.
Art Therapy
Art therapy is a mental health profession practiced by certified therapists who use art media, the creative process, and artwork produced by clients, for a variety of goals, including exploring feelings and emotions and improving self esteem.
People with Alzheimer's disease can create art projects under the guidance of a caregiver or as part of a treatment plan under the supervision of a certified art therapist.
The creative process can provide an outlet for emotions and may be a means of communicating as the ability to speak and understand conversation diminishes.
Painting can help an Alzheimer's patient tell a story or remember a place or event in the past. Subjects for painting may be a memory from childhood such as building a snowman, or the house where the patient grew up.
The act of creating art can help young children connect with a grandparent as the disease progresses. It can also give caregivers and patients something to talk about together as the painting is in progress and after it is finished.
Take care to use materials that are non-toxic and safe if swallowed, and avoid sharp objects. Some patients may need help getting started, such as a reminder as to how to paint the first few brushstrokes.
Allow ample time for the project and remember that the process of creating artwork is as important as finishing the project. The painting should be complete when the artist says it is done. More than one session may be needed to finish a project.
Music Therapy
Music is known to have a strong impact on emotions. For people with Alzheimer's disease, music therapy can help trigger memories associated with a particular song.
Music therapy can also encourage participation in physical activity and help maintain focus during activities such as eating.
Music therapy is an established health profession. Certified music therapists use creating music, singing, moving to music and listening to music to accomplish specific goals in a treatment plan to help with the emotional, cognitive and social needs of their patients.
People in all stages of Alzheimer's disease are often able to respond to music, tap a beat and even sing the lyrics to songs from their childhood.
Music therapy can soothe agitation, spark memories and prompt the person with Alzheimer's to engage in activities such as eating or walking to the bathroom.
Different types of music can produce very different responses:
• Soothing
Calming songs such as lullabies with simple melodies and little rhythmic stimulation can help encourage relaxation leading up to bedtime. These songs can also calm agitation, frustration and fearfulness.
• Engaging
Rhythmic songs and dance tunes can help encourage physical activity such as toe-tapping and dancing.
• Old Favorites
Songs from childhood or young adulthood are most likely to spark memories, especially for patients in more advanced stages of the disease. Patients who have difficulty speaking may still remember and sing along with songs they learned as children.
Remember that songs can have very specific meanings or memories for each person. So a song that may seem happy could be connected with a sad memory. Pay close attention to visual clues such as facial expressions to determine if the song is a good choice or not.
People with Alzheimer's disease may experience sensory overload listening to music.
If possible, eliminate competing noise by doing things like turning off the television while listening to music. Commercials that interrupt the music may also be confusing to a person with Alzheimer's.
Because Alzheimer's disease affects the way the brain works, music that appeals to you may sound bad to the patient. Make sure the volume is not too loud and change songs if you receive a negative response to a particular song or style of music.
Art and music therapy can stimulate communication and provide emotional expression.
If you have questions about sharing art or music with a person with Alzheimer's disease, or to find a certified therapist, talk to your health care professional.
Sources:
Web MD. Art and Music Therapy for Alzheimer's Disease. Web. November 23, 2014.
http://www.webmd.com/alzheimers/guide/alzheimers-basics
Alzheimer's Association. Music, Art and Alzheimer's. Web. November 23, 2014.
http://www.alz.org/care/alzheimers-dementia-music-art-therapy.asp#art
American Art Therapy Association. Art Therapy Educational Standards & American Art Therapy Association Approved Art Therapy Master's Programs. Web. November 23, 2014.
http://www.arttherapy.org/aata-educational-programs.html
American Music Therapy Association. What is Music Therapy? Web. November 23, 2014.
http://www.musictherapy.org/about/musictherapy
Reviewed November 25, 2014
by Michele Blacksberg RN
Edited by Jody Smith
Tags: