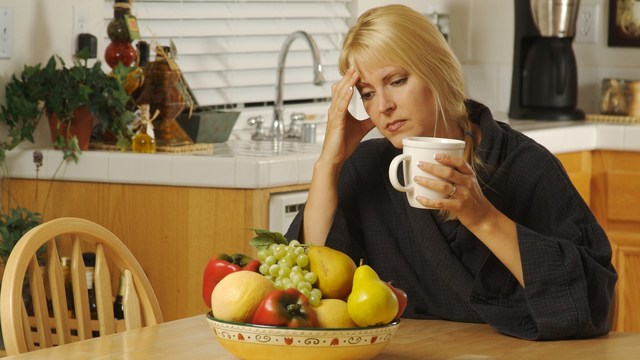 Andy Dean/PhotoSpin
There are many symptoms commonly associated with both perimenopause (the start of the hormonal changes) and actual menopause. These include hot flashes, night sweats, vaginal dryness and weight gain. A woman may also experience increased joint pain, irregular cycles, heavier periods, hair loss and insomnia.
In discussions with their friends, female family members and health care providers, most women have a general understanding of what's to come when it relates to the big hormonal transition. However symptoms such as increased, worsening or new anxiety might be a surprise.
Many women have experienced at least some form of anxiety in their lifetime and find it concerning if those nervous, overwhelmed, worried or fretting feelings really ramp up in their forties and fifties.
Research, and anecdotally in my practice, shows that women who are prone to anxiety before menopause are much more likely to have higher levels as they go through it. In fact, it is reported that 51 percent of women between 40-55 years old experience mood swings or anxious feelings more regularly than when they were in their twenties and thirties. While there is little research on the subject of why, and the reasons are conflicting, there are a few consistent theories that may apply.
As women approach menopause, the need to become pregnant becomes less therefore ovulation becomes less frequent. Without ovulation a woman does not make much progesterone and progesterone is the more calming, soothing, anti-PMS hormone for women. This leaves estrogen to become more dominant which can cause increased symptoms of PMS, irritation, anger and overwhelm.
This hormonal transition of menopause is often occurring at the same time that life is stressful -- Murphy's law?
Women are juggling family, work, financial, relationship, and world responsibilities while trying to eat healthy, exercise, stay sane and navigate menopause. This causes a lot of internal stress on the body, particularly upon the adrenal glands. This can lead to feelings of anxiety, irritability, overwhelm and panic.
Women going through perimenopause and menopause often experience long periods of insomnia or waking up regularly between 2 a.m. and 5 a.m. This leads to more fatigue and less patience, causing those low-level feelings of anxiety to worsen. Everybody feels better after a good night's sleep as it is restorative to the body.
So, what can be done?
First, recognize that it is a normal (but not fun or fair) part of going through menopause.
Talk to your female family members about their experience and then consult with your health care provider about options (even if temporary) to help you get on the other side of all the transition.
Find coping skills to first recognize what is going on and then to determine how to act/react with yourself and those around you.
Put yourself in time out and take 5-10 minutes for yourself (or more) and just breathe deeply, go for a walk, sit in the sun, read, exercise or close your eyes.
Focus on setting boundaries and saying "no" to things that create more stress and chaos in your life and remember that it is okay to do so. Lastly, hope that your menopause is short and sweet!
Sources:
1. Bromberger, J., Kravitz, H., Chang, Y., Randolph, J., Avis, N., Gold, E., and Matthews, K. Does Risk for Anxiety Increase During the Menopausal Transition? Study of Women's Health Across the Nation. Web. 2 June, 2013.
http://www.medscape.com/viewarticle/803506
2. The Merck Manual. Menopause. Web. 2 June, 2013.
http://www.merckmanuals.com/home/womens_health_issues/menopause/menopause.html?qt=progesterone&alt=sh
3. Kumari, v., Konstantinou, J., Papadopolous, A., Aasen, I., Poon, L., Halari, R., and Cleare, A. Evidence for a Role of Progesterone in Menstrual Cycle-Related Variability in Prepulse Inhibition in Healthy Young Women. Web. 2 June, 2013.
http://www.ncbi.nlm.nih.gov/pmc/articles/PMC3055354
Reviewed June 3, 2013
by Michele Blacksberg RN
Edited by Jody Smith