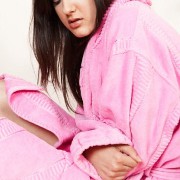 Photo: Getty Images
If you have an acute pain in your side, it could be gas. Particularly if you just filled-up on bar food and beer. But if you haven't, and the pain is persistent and is joined by nausea and fever, it could be appendicitis.
The appendix is a worm-sized organ that is part of the large intestine. It doesn't serve a real purpose, as far as doctors know. But it can become infected and rupture, causing a whole world of trouble for you, including death if it's not surgically removed.
Another possibility for women who have a pain in the side that doesn't let up is an ovarian cyst. Every month the ovary in a healthy woman of child-bearing age causes an egg to mature. The egg then makes its way to the uterus hoping to meet up with sperm and be fertilized. When this process goes awry, and the egg doesn't release from the ovary, it can become a fluid-filled sac (cyst) that usually clears up on its own. But sometimes they don't and then a doctor has to intervene to treat the cyst or remove it.
Do you have a question about appendicitis, ovarian cysts or other abdominal pain? Check out EmpowHER's pages. Sign-up, post a question, share your story, connect with other women in our groups and community, and feel EmpowHERed!
Resource:
Yahoo! Health: 7 Pains You Shouldn't Ignore
< a href=https://www.empowher.com/community/share/pesky-appendix-why-tiny-thing-can-really-hurt-you>EmpowHER: The Pesky Appendix – Why This Tiny Thing Can Hurt You
Christine Jeffries is a writer/editor for work and at heart, and lives in a home of testosterone with her husband and two sons. Christine is interested in women's health and promoting strong women.