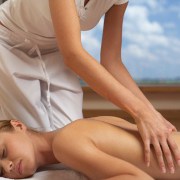 Photo: Getty Images
Are you constantly looking for a new excuse to get your honey (or even your buddy) to rub your back? Look no further!
A recent study reported in the Annals of Internal Medicine Journal has found that massage can be even more beneficial than the usual care you might get at a doctor's office.
This study used participants who had been treated for back pain before, but without having a specific condition. That is, they did not have arthritis, cancer, sciatica, injury or any other cause for pain. The study compared two different types of massage, structural and relaxation, with usual treatment for back pain (no massage). Those who had "usual treatment" simply continued their normal treatment for back pain but did not receive massage.
Through the measurements on the 10th and 26th week follow ups, there was a greater improvement and less chronic low back pain in study participants who received massage therapy when compared to the participants who had undergone their usual treatment.
Both forms of massage showed a significant improvement in the chronic low-back pain. Generally, the cost of a relaxation massage is less expensive and practiced more frequently than structural (so ask your masseuse for a simple relaxation massage).
Although this research provides the perfect excuse for a much-needed rub, keep in mind that the conclusions from this study resulted from massages from trained and licensed massage therapists. For severe pain, see a chiropractor or licensed masseuse and discuss the best treatment for you instead of relying on the hands of kind friend.
According to the American Chiropractic Association, low back pain is the second most common reason for visiting the doctor, proving to be an issue needing much attention! Some tips to prevent back pain include:
1. Maintain a healthy weight and diet.
2. Lead an active lifestyle. (Lift with your knees, not your back)!
3. Avoid a sedentary lifestyle.
4. Have good posture! Have posture partners! Keep your friends in check, and make sure they return the favor. Everyone strives for better posture!
5. Work out your abs. Keeping the front strong helps keep the back strong.
6. Work out your back! An educated trainer at the gym can give you tips!
7. Get a mattress that works for you, and toss the old one if you can afford it!
8. Aim for the ergonomically correct desk setups when possible!
9. Wear comfortable shoes. Even though looking four inches taller on the beach might feel right, a sprained ankle and hurt back won't! Shoes with support help maintain a healthy stride and spine.
10. STOP SMOKING. According to the Michigan Health System, smokers are up to 2.7 times more likely to get back pain than non-smokers. Smoking is also linked to the decay of spinal disks. More of a reason to get your friend to quit: learn more here!
Sources:
Spine Program Faculty and Staff. (n.d.). Smoking and Back Pain | University of Michigan Health System. University of Michigan Health System. Retrieved August 19, 2011, from
http://www.med.umich.edu/1libr/aha/umbackpain_smoking.htm
ACA - Back Pain. (n.d.). ACA - The American Chiropractic Association (ACA) - Representing doctors of chiropractic (chiropractors). Retrieved August 18, 2011, from
http://www.acatoday.org/level2_css.cfm?T1ID=13&T2ID=68
Cherkin, D., Sherman, K., Kahn, J., Wellman, R., Cook, A., Johnson, E., et al. (2011). A Comparison of the Effects of 2 Types of Massage and Usual Care on Chronic Low Back Pain . Annals of Internal Medicine, 155(1), 1-9. Retrieved August 19, 2011,
from http://www.annals.org/content/155/1/1.
Reviewed August 26, 2011
by Michele Blacksberg R.N.
Edited by Jody Smith
Tags: