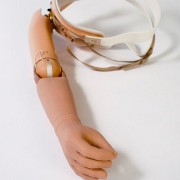 Photo: Getty Images
Kaitlyn McGovern lost a leg to bone cancer, but now she's going to Disney World. This 8-year-old girl from Michigan completed 30 weeks of chemotherapy and is doing well with her prosthetic leg, according to the Midland Daily News. Her diagnosis was osteosarcoma, the most common type of bone cancer in children. People of any age can get osteosarcoma, but those in late childhood or early adolescence have the highest risk.
Osteosarcoma cases are on the rise, according to a British research study. The average rate of increase over the period 1981 to 2002 was 2.5 percent per year. The 5-year survival rate was 58 percent, and did not increase significantly over the time of the study. Females had a somewhat lower incidence rate and a higher survival rate than males.
There are more than 20 diagnostic subgroups of bone cancer, but for persons less than 40 years of age, most fall into three classifications:
1. Osteosarcoma, 46 percent. This was the only type to show an increasing incidence in the British study.
2. Ewing sarcoma, 33 percent. This type was more deadly, with a 5-year survival rate of 43 percent.
3. Chondrosarcoma, 14 percent. The peak incidence for this type is in adults over age 65. This type had the best 5-year survival rate in younger people (0 to 39 years), at 71 percent.
Most clinical trials for bone cancer have been limited to patients younger than 40. A Canadian study reported that older groups were excluded from early trials because researchers believed the prognosis was worse for adults over 40. Their results, however, showed that age makes no difference in the course of osteosarcoma. The most important factor is metastasis to the lungs, according to data from the Mount Sinai Hospital in Toronto.
Amputation is still a common treatment for osteosarcoma, as most cases occur in the long bones of the legs or arms. However, limb-sparing treatment with chemotherapy and radiation has advanced over the last three decades. Research is in progress for a cure that does not require drastic surgery.
References:
1. Midland Daily News story, March 5, 2011:
http://www.ourmidland.com/news/article_0ae14227-cd59-5c1f-be22-50cab5a6de17.html
2. Eyre R et al, "The epidemiology of bone cancer in 0 – 39 year olds in northern England, 1981 – 2002", BMC Cancer 2010; 10: 357.
3. Aljubran AH et al, "Osteosarcoma in adolescents and adults: survival analysis with and without lung metastases", Annals of Oncology 2009; 20: 1136-41.
4. Ayerza MA et al, "Does increased rate of limb-sparing surgery affect survival in osteosarcoma?" Clin Orthop Relat Res. 2010 Nov; 468(11): 2854-59.
Linda Fugate is a scientist and writer in Austin, Texas. She has a Ph.D. in Physics and an M.S. in Macromolecular Science and Engineering. Her background includes academic and industrial research in materials science. She currently writes song lyrics and health articles.
Tags: