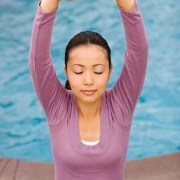 Photo: Getty Images
To me, there has always been somewhat of a mystery surrounding yoga. Before experiencing the benefits of it myself, I saw it as something monks would do high atop a mountain, for hours on end. Who has time for that? After all, I have deadlines, chores, kids, and more!
However, according to Rachel Krentzman, PT, E-RYT, CPYI, Director of Embody Yoga Therapy (www.embodyyogatherapy.com) in San Diego, Calif., yoga is more than just a system of exercising and stretching. It is a way to calm the mind and experience sustained joy in each moment. After all, if you are considering practicing yoga to ease chronic neck and back pain (or any other types of pain resulting from overuse or injury), then to discover sustained joy must equate to a pain-free existence.
"If you are in pain, it is difficult to focus on anything else, and your mind cannot find tranquility," Krentzman explained. "Yoga is a way to practice awareness and to connect with your own truth. That can only occur when the mind is quiet enough to allow you to listen to your own heart."
The postures and poses used in yoga allow for the opening of the body while encouraging the mind to focus and bring awareness to each breath you take. In doing so, you can begin to sense a calmer state of being and will ultimately become more peaceful and more in touch with your true self.
Krentzman began practicing yoga to help with her own upper back pain. As a physical therapist, her long days saw her lifting heavy loads, which created constant tension between her shoulder blades and neck. She suffers from scoliosis, and the demands of her job were beginning to take their toll on her.
She then turned to yoga for relief. After practicing this ancient tradition for just a short while, her pain dissipated. She then began to use the art of yoga with her patients, and the results were nothing short of amazing.
"Since I had the knowledge of anatomy and physiology, I was able to see how each posture would benefit many different muscle groups simultaneously. I then decided to become a teacher and studied under the guidance of a wonderful master, Aadil Palkhivala in Bellevue, WA," Krentzman said.
After 2,000 hours of yoga training with the master, Krentzman left her job as a physical therapist and began her own integrative yoga and physical therapy practice, and she has combined these disciplines for eight years, recognizing fascinating results with her patients in terms of their physical pain and overall state of being.
"Both neck and back pain is typically caused by poor posture throughout the day," Krentzman said. "Most neck pain occurs when the chest and upper back is tight and the head tilts forward with the neck extended. This puts a lot of undue strain on the neck, which is constantly working against gravity to keep the head upright. When we work to correct the posture and open the chest, the neck can lengthen and the muscles are then free from overuse."
As for low back pain, Krentzman indicated that this is mainly due to tightness in the upper back and hips, which is something many of us may experience as we slave away at our desks all day. Yoga postures can help to free the hips and mobilize the upper back, preventing pressure from building up in the lower back, which is a highly vulnerable area of the body in terms of pain and pressure.
"Yoga is wonderful for treating the cause of the problem as well as to help alleviate the symptoms related to muscle strain and compression," Krentzman said.
To discover four simple yoga exercises for back and neck pain, click on the following link: http://www.active.com/mindandbody/articles/4_Simple_Yoga_Exercises_for_Back_and_Neck_Pain.htm. In her article, Krentzman shows how you can begin to use the downward dog pose against a wall and a few other poses in the comfort of your own home to begin the healing of your back and neck pain. If you are ready to free yourself from that constant pain, take a peek at this article and study the poses. A pain-free existence and a tranquil state of mind can literally be just a few poses away!
When searching for a qualified yoga instructor in your area, ask co-workers and friend for instructors they recommend. There are many different types of yoga. If you are seeking relief from neck and back pain, it is important to find an instructor who is knowledgeable about proper body alignment and yoga therapeutics.
As for how frequently you should engage in yoga, it all depends, but Krentzman recommends a minimum of three sessions each week to allow for a noticeable difference in your level of pain and in the changes that will undoubtedly occur in your body. It's truly a transformational process. Be sure to give it at least six weeks' attention. Chances are, you will be hooked from that point on!
Even after just one yoga session, you should feel more energetic and calmer. If you do notice any pain or discomfort while participating in your session, then speak to your instructor. It is quite possible you are taking the wrong type of yoga class.
If you are experiencing pain due to any type of injury, just a few weeks of yoga should provide a noticeable improvement in your symptoms. Of course, when you are consistent in your efforts to practice yoga, the benefits will be longer-lasting.
Now, I have to go find the nearest available wall and check out this downward dog pose. If it feels as good as it promises to feel, don't expect me to be back at my computer – at least for the rest of the day!
Tags: