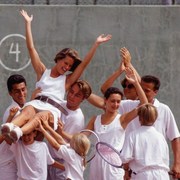 David De Lossy/Photodisc/Thinkstock
There's some surprising news for those of us who thought that ensuring the inclusion of calcium alone in the diet of our growing girls was enough for them to grow healthy bones.
Studies have been conducted at the Children's Hospital Boston to study the relation between occurrence of stress fractures in active adolescent girls, and their intake of dairy products and the findings tell a different story.
Stress fractures may occur when a bone or set of bones are overused or suffer repeated strain or load over a period of time.
Though not complete fractures, stress fractures can occur when muscles become fatigued, and in the absence of adequate rest are unable to absorb the shock of impact or load and transfer some of the shock to the bone or skeletal structure in question.
These are common injuries seen in activities such as tennis, squash, basketball, or any other form of high impact sport on hard surfaces. (1)
The study which was named "The Growing Up Today Study" examined 6712 pre-adolescent girls between 9 and 15 years of age.
It was found that Vitamin D was the critical mineral, and not calcium or dairy products, that bore a direct relationship to occurrence of stress fractures in those girls who were active and were involved in some sort of high impact sport (2)
The study included a seven-year followup of the children examined and found that approximately 3.9 percent of the girls developed a stress fracture, despite adequate intakes of calcium and dairy-rich products through their diet.
This clearly showed that either of the two factors were unrelated to the risk.
It was also observed that such girls who were involved in at least one hour of high-impact physical activity every day showed a change in the occurrence of stress fractures with a corresponding change in vitamin D levels in their diet.
According to Kendrin Rc Sc.D., R.D., of Children's Hospital Boston, the author of the study, "In contrast, there was no evidence that calcium and dairy intakes were protective against developing a stress fracture or that soda intake was predictive of an increased risk of stress fracture or confounded the association between dairy, calcium or vitamin D intakes and fracture risk." (3)
Among all the forms of vitamin D, D3 is considered most suitable by pediatric orthopaedicians as it is naturally available in various foods.
The study arrived at yet another finding -- that a stratified analysis of the study showed that an increase in the level of calcium in the diet actually coincided with the increase in the risk of occurrence of stress fractures in the active girls.
However, more research into this finding has been called for by the scientists as it is a rather unexpected one and counters all previous knowledge on the subject.
Studies are now on to check if vitamin D taken as supplements would confer the same benefits to children as would taking it in the natural vitamin D available in foods.
SOURCES:
1. Stress Fractures; American Academy of Orthopaedic Surgeons - Ortho Info; Web March 2012; http://orthoinfo.aaos.org/topic.cfm?topic=a00112
2. Vitamin D Intake May Be Associated With Lower Stress Fracture Risk in Girls; Science Daily News; Web March 2012; http://www.sciencedaily.com/releases/2012/03/120305173453.htm
3. Vitamin D Intake May Reduce Fracture Risk In Girls; Medical News Today; Web March 2012; http://www.medicalnewstoday.com/articles/242565.php
Technical report of the study may be accessed at:
1. Vitamin D Intake May Reduce Stress Fracture Risk in Adolescent Girls; Medscape Education; Web March 2012; http://www.medscape.org/viewarticle/759881
INFORMATION IN THIS ARTICLE IS NOT MEDICAL ADVICE. ALL INFORMATION GIVEN IS TO BE CHECKED WITH YOUR DOCTOR BEFORE IMPLEMENTING OR TAKING THEM AS STANDARD OR VERIFIED.
Mamta Singh is a published author of the books Migraines for the Informed Woman – Tips From A Sufferer: ISBN: 978-81-291-1517-1 (Publisher: Rupa & Co. URL: http://www.amazon.com/Migraines-Informed-Woman-Tips-Sufferer/dp/8129115174/ref=sr_1_2?ie=UTF8&s=books&qid=1298990756&sr=1-2), Mentor Your Mind – Tested Mantras For The Busy Woman: ISBN: 978-81-207-5973-2 (Publisher: Sterling Publishers; URL: http://www.amazon.com/Mentor-Your-Mind-Tested-Mantras/dp/8120759737/ref=sr_1_1?ie=UTF8&qid=1316063179&sr=8-1) and the upcoming Women's Complete Fitness Guide (Publisher: Hay House India).
She is also a seasoned business, creative and academic writer. She is a certified fitness instructor, personal trainer & sports nutritionist through IFA, Florida USA. Mamta is an NCFE-certified Holistic Health Therapist SAC Dip U.K. She is the lead writer and holds Expert Author status in many well-received health, fitness and nutrition sites.
She runs her own popular blogs on migraines in women and holistic health. Mamta holds a double Master's Degree in Commerce and Business. She is a registered practitioner with the UN recognised Art of Living Foundation. Please visit www.mamtasingh.com/
Reviewed May 23, 2012
by Michele Blacksberg RN
Edited by Jody Smith
Tags: