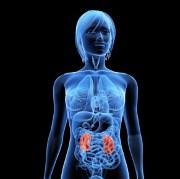 Photo: Getty Images
New studies are now suggesting that patients who have been recommended for a major procedure of their kidneys could stand at a risk of adverse bone health post-operation. Researchers from the San Diego School of Medicine, University of California are now telling that doctors should find out if a kidney-sparing surgery is a possibility for a patient so that risks of bone fractures and the like are significantly reduced with advancing age. (1) The kidney surgery could also aid in the restoring of vital kidney functions and reduce the compromise on bone health.
Surgeries that involve major procedures performed on the kidneys or radical nephrectomies are also said to increase metabolic complications in the recovery phase. The patient may experience metabolic acidosis, muscle wasting, osteoporosis, cardiovascular disease, or even death. Doctors are said to recommend radical nephrectomies as it is an easier procedure to perform than kidney-sparing surgeries. (2)
The common reason why a radical nephrectomy is suggested the presence of carcinoma of kidney cells. This urological malignancy is said to inflict 60,920 new cases in the United States during 2011, out of which, 37,120 will be men and 23,800 women. (3)
One of the highest kidney preservation rates in the U.S comes from the centres at San Diego – University of California. It implements robotic technology to perform partial nephrectomies to those patients who would have required radical and open surgeries if diagnosed a few years ago. The procedure followed by the UC San Diego team (led by Ithaar Derweesh and includes fellow researchers Aditya Bagrodia, Reza Mehrazin, Wassim M. Bazzi, Jonathan Silberstein, John B. Malcom, Sean P. Stroup, Omer Raheem, Robert W. Wake, Anthony Patterson, and Jim Y. Wan) promise equivalent cancer cure rates and superior protection of kidney function.
As per Christopher Kane, MD, Professor of Surgery, C. Lowell and JoEllen Parsons Endowed Chair in Urology and Chief of the Division of Urology, and paper co-author, "Too often urologists have done radical nephrectomies for patients who were candidates for partial nephrectomy. While partial nephrectomy is more complex for the surgeon to perform, it can offer better quality of life later in life." (4)
SOURCES:
1. Title: Kidney Preserving Surgery Saves Bone Health; UC San Diego Health System; August, 2011;
http://health.ucsd.edu/news/2011/08-04-kidney-preservation-for-bone-health.htm
2. Comparison of Rates and Risk Factors for Development of Osteoporosis and Fractures After Radical or Partial Nephrectomy; Science Direct; July 2011; http://www.sciencedirect.com/science/article/pii/S0090429511004961
3. Kidney Cancer (Adult) - Renal Cell Carcinoma; American Cancer Society; August, 2011;
http://www.cancer.org/cancer/kidneycancer/detailedguide/kidney-cancer-adult-key-statistics
4. Kidney Preserving Surgery Saves Bone Health; Medical News Today; August, 2011;
http://www.medicalnewstoday.com/releases/232301.php
INFORMATION IN THIS ARTICLE IS NOT MEDICAL ADVICE. ALL INFORMATION GIVEN IS TO BE CHECKED WITH YOUR DOCTOR BEFORE IMPLEMENTING OR TAKING THEM AS STANDARD OR VERIFIED.
Mamta Singh is a published author of the books
Migraines for the Informed Woman – Tips From A Sufferer: ISBN: 978-81-291-1517-1
(Publisher: Rupa & Co. URL: http://www.amazon.com/Migraines-Informed-Woman-Tips-Sufferer/dp/8129115174/ref=sr_1_2?ie=UTF8&s=books&qid=1298990756&sr=1-2)
Mentor Your Mind – Tested Mantras For The Busy Woman: ISBN: 978-81-207-5973-2
(Publisher: Sterling Publishers; URL: http://www.sterlingpublishers.com/search_result.asp)
and the upcoming
The Urban Woman's Integrated Fitness Guide
(Publisher: Hay House India).
She is also a seasoned business, creative and academic writer. She is a certified fitness instructor, personal trainer & sports nutritionist through IFA, Florida USA. Mamta is an NCFE-certified Holistic Health Therapist SAC Dip U.K. She is the lead writer and holds Expert Author status in many well-received health, fitness and nutrition sites.
She runs her own popular blogs on migraines in women and holistic health. Mamta holds a double Master's Degree in Commerce and Business. She is a registered practitioner with the UN recognised Art of Living Foundation. Please visit www.mamtasingh.com
Reviewed October 27, 2011
by Michele Blacksberg RN
Edited by Jody Smith
Tags: